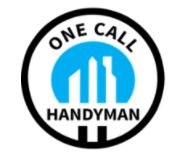 Reviews
Exceptional! Fast, efficient and very reasonably priced.
Billy and Deon, truly One Call Handymen; from plumbing work, repairing gutters and gates to cleaning yards... Nothing was too hard. Great service - genuine, efficient and prompt service at reasonable price. Definitely recommend! Thank you guys...
A great service to use. Easy to book an appointment and the handyman was on time. He was nice and completed the job quickly and efficiently! Thank you and would definitely recommend to others.
Called urgently needing a job done and in the next few hours my gate was back to normal. Great price and friendly attitude. Definitely recommend!
Needed Billy and his team for a few big and small jobs. And couldn't be more happy with the outcome. Highly Recommended. Very professional.
One Call Handyman! Very impressed, Billy will be my handyman going forward. There isn't anything it seems that Billy and his team can't do. I recently had Billy work on my back patio, which required new roof sheeting. My house is two story so I wondered whether this was a handyman job or a builder/roofer was required. In short, this particular job was completed easily by Billy. Billy is so very professional, timely and extremely approachable. His price I found to be very reasonable also. Thanks again Billy
About Us
All your handyman services are one call away...
Whether you're looking to spruce up your home, or just need to find someone that can look after all those jobs that you 'never got around to', often finding a handyman that can do it all can take almost as long as the job itself.
But there is a much easier solution, and it's just one call away…
One Call Handyman offers a wide range of services for your home and property.
Opening Hours
| | |
| --- | --- |
| Monday | 24Hours - 7Days |
| Tuesday | 24Hours - 7Days |
| Wednesday | 24Hours - 7Days |
| Thursday | 24Hours - 7Days |
| Friday | 24Hours - 7Days |
| Saturday | 24Hours - 7Days |
| Sunday | 24Hours - 7Days |
Locations
Waterford West and surrounding suburbs