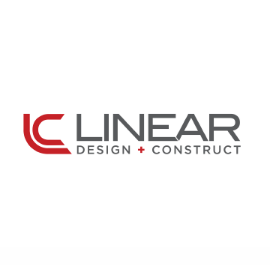 Linear Design + Construct
Reviews
We first engaged Linear Design & Construct on the renovation of our home. The single point of contact and accountability through the design and build process really appealed to us and their delivery on this was seamless. We were overwhelmed with the professionalism of the process and the standard of the finished build. So much so, that we have since used their services on the design and build of our commercial properties. The expertise that Linear exhibit in the management of both the design and build system, to our thinking really alleviated any risk. The level of communication and forward planning was excellent. We would not hesitate in recommending Linear to anyone that was thinking of renovating or building new.
Michael and his team were wonderful to work with. All the team were motived to produce the best standard of construction. Michael listened well and understood our needs and the outcomes that we wanted to achieve. His extensive experience was noticeable in picking up issues that may arise during construction and rectifying them with ease. Linear Design + Construct payment process was easy and very transparent. Our project was delivered on time and the final outcome exceeding our expectations. We have already recommended Linear Design + Construct to our close friends, thanks guys for a wonderful building experience
We approached Linear to assist us in both the design and build of our house renovation. We had a pressing need for more space and a very firm budget to work with. Linear developed a cost-effective extension, where minimal changes were required to the existing house. The final design and build has created a great open plan house that functions brilliantly and flows all on one level. Communication at every stage of the design and build process was excellent. It gave us real piece of mind that the party responsible for the design incorporating our budget and brief. Were ultimately responsible for building and meeting those benchmarks. We would recommend Linear without hesitation.
We approached Michael from Linear Design + Construct whilst our new property was in the process of settlement. From here Michael was able to assist us in some design concepts which would not only optimise the functionality and value of our property but also correct the mistakes of the past. The quality of the workmanship was great and we felt very engaged throughout the whole construction process with regular contact with Michael. We have had no defects associated with the work since we moved into our renovated home and I would recommend Michael and the Linear Design + Construct team to anyone looking for design, planning and construction work on an old Queenslander.
Our journey with Linear Design + Construct from start to finish.. and beyond, was stress free, and exciting. The professionalism, courtesy and flexibility was second to none. Communication throughout the build was so important to us, and was one of the major contributing factors in signing with Linear Design + Construct. Availability was also imperative, and this was carried out throughout the whole experience. The tradesmen working with Linear were amazing, highly recommended. Our finished product speaks for itself, and is built & crafted to the highest of standards! We would be more than happy to have an informal discussion with anyone considering building with Linear Design + Construct. We are grateful & honoured to have chosen Linear Design + Construct for our build.
Michael and his team delivered a design and build major renovation of an early 1920's Queenslander for us and did a superb job. Any renovation of this scale is complex and we were able to work through each of the steps progressively and the final product is an outstanding home. We have been living in the house now for 3 years with our 3 kids, really testing it out and the building and design has handled this exceptionally well. I would also like to say that a build like this doesn't end with handing the keys over and Michael has provided us excellent after sales service, promptly addressing any issues that emerged over time once we were settling in to the house. You can view the renovation on the Linear Design and Construct website for New St Nundah. Regards Eddie
About Us
DREAM

. DESIGN.

DELIVER
---
Brisbane's Top Choice for House Designs
At Linear Design & Construct we want to help you create a space to relax, unwind and leave behind all the stress from outside. Whether it's a lavish house with multiple stories or a cosy cottage with a luscious gardens we have got you covered.
Wewill develop the blueprints with our expert building designers and transform your house to a forever home — and this one will last way past the stroke of midnight. After we're done you will be excited to step through the front door every day and your home will be the envy of the ball.
Our Home Design and Home Building Services Include:
Home Extensions
Home Renovations
New Custom Homes
Architectural Design
Commercial Builds
Shop Fitout
Our team will be delighted to hear from you! Please do not hesitate to get in touch.
Opening Hours
| | |
| --- | --- |
| Monday | 7:00am - 5:00pm |
| Tuesday | 7:00am - 5:00pm |
| Wednesday | 7:00am - 5:00pm |
| Thursday | 7:00am - 5:00pm |
| Friday | 7:00am - 5:00pm |
Call us today for a free appraisal!
Locations
Clayfield, Wooloowin, Ascot, Hendra, Hamilton, Windsor, Grange, Albion, Ashgrove, Paddington, New Farm, Bardon, Wilston, Nundah, Northgate and surrounding areas
FAQs
What information do I need to provide you with for a competitive quote?

Send me an email, I will reply with a short questionnaire relating to your project. From your responses on the questionnaire and possible follow up conversation I will be able to determine if I can assist you with your enquiry
Why should I hire you over another business?

I can provide you with a list of my previous clients and their addresses. As well as any current clients/projects. Ask them of their experience
Do you offer a guarantee on the work that you carry out?

6.5 years on major structural defects