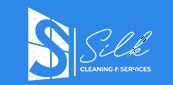 Silk Cleaning and Services Pty Ltd
Reviews
Be the first to leave a review for Silk Cleaning and Services Pty Ltd
About Us
Are you fed up with how dirty your home or office is? If yes, you have come to the right place as Silk Cleaning offers a great variety of cleaning services for both domestic and commercial purposes. We believe that having a clean home is the key to living a healthy and productive life.
We offer personalized and customized service according to each client's needs. At Silk Cleaning, we have a dedicated team of qualified cleaners that primarily provide cleaning services. All our staff are highly trained and are chosen for their integrity and work experience. Our staff are educated to notify the management about any workplace hazards and safety issues in order to prevent future injuries
We can guarantee 100% satisfaction from our work.
Opening Hours
| | |
| --- | --- |
| Monday | 8am - 5pm |
| Tuesday | 8am - 5pm |
| Wednesday | 8am - 5pm |
| Thursday | 8am - 5pm |
| Friday | 8am - 5pm |
| Saturday | 8am - 5pm |
| Sunday | 8am - 5pm |
Locations
Southern River and all surrounding suburbs