I'm sure you probably have a certain image in your head right now, maybe that of your grandparents home covered in that busy, painful-to-look at floral pattern that clashes with EVERYTHING. It's possibly mustard, or every other colour under the sun all crammed into the one design for that extra eye-sore effect. We all know the one. Fast forward to 2018, where wallpaper is making a comeback, with geometric patterns, metallics, and botanical themed designs being effectively incorporated into interior designs and statement walls to make an impact, creating texture and adding personality to the space.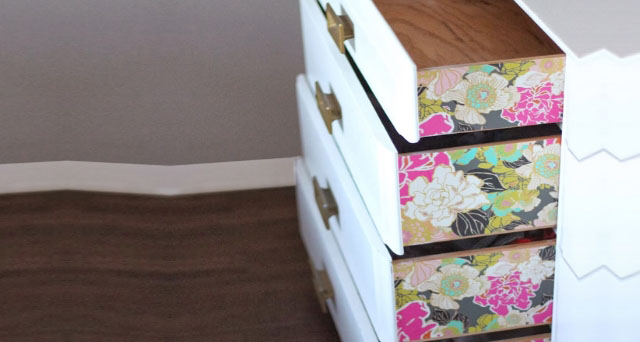 For those who love the bohemian look, there are an abundance of patterns and designs that can perfectly complement your current boho decor. Even brick and stone wallpapers are becoming a popular option for industrial, rustic and Scandinavian style homes as an alternative to actual exposed stone. Your walls aren't the only surface that can be given that decorative touch, though! These ingenious tips for getting creative with wallpaper are the perfect way to affordably upgrade
your home, and you'll be wishing you thought of them sooner. 
DIY headboard

 
Sometimes, finding the perfect bedhead can be difficult. Fabric, timber or metal? And in which colour? Will the cat have one of its psycho snaps and scale up the fabric like Spiderman? Who knows. Avoid all these issues and give your bedroom the ultimate touch of personalisation and luxury by creating your ideal bedhead with wallpaper! You're in total control of the colour, pattern, textures, and the shape, to perfectly complement your current decor or nail the exact new look you're going for.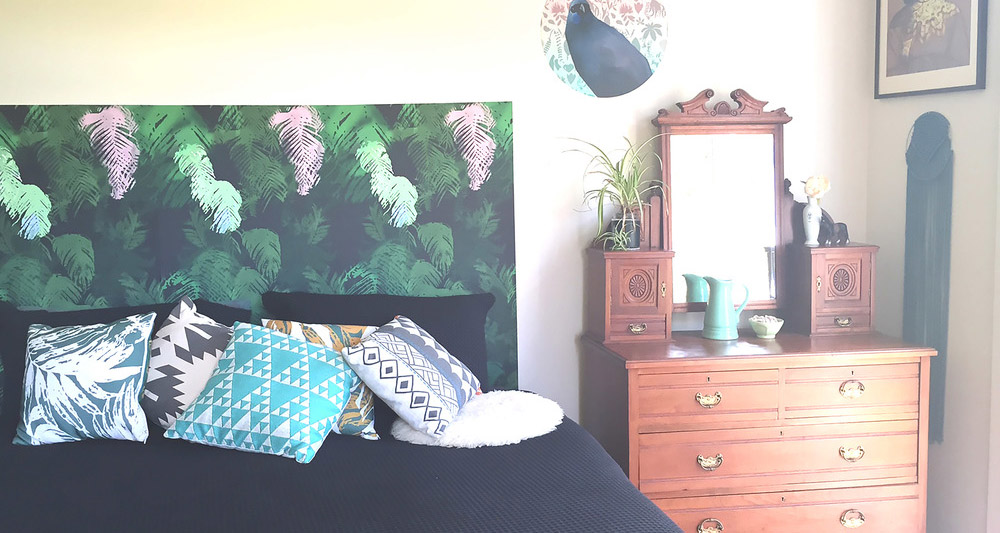 Before you begin, check out our top tips to guarantee a successful DIY project. When you're ready to tackle the task, start by measuring up the width of the bed and decide how tall you'd like the headboard to be. Use some scrap paper to draw up a template in the desired shape and size, then cut it out and trace onto the wallpaper before cutting out the final design from here. Apply the wallpaper to the wall using the manufacturer's' instructions, and you're done! This is such an easy way to change your bedroom from boring to ballin'. For more detailed instructions, Etsy has some helpful How-To posts!
Bookshelf

 
For all the bookworms out there, decorating your bookshelf is the perfect way to really show some love to the home of all your beloved books, whether you're into novels, cookbooks or adult colouring books. Even if you're not an avid reader, most households are bound to have a bookshelf set up somewhere in their home for displaying a range of bits and pieces, keepsakes or memorabilia. Creatively lining the back wall of your bookshelf using wallpaper is a quick and easy way to really make it pop and add some character to the whole space.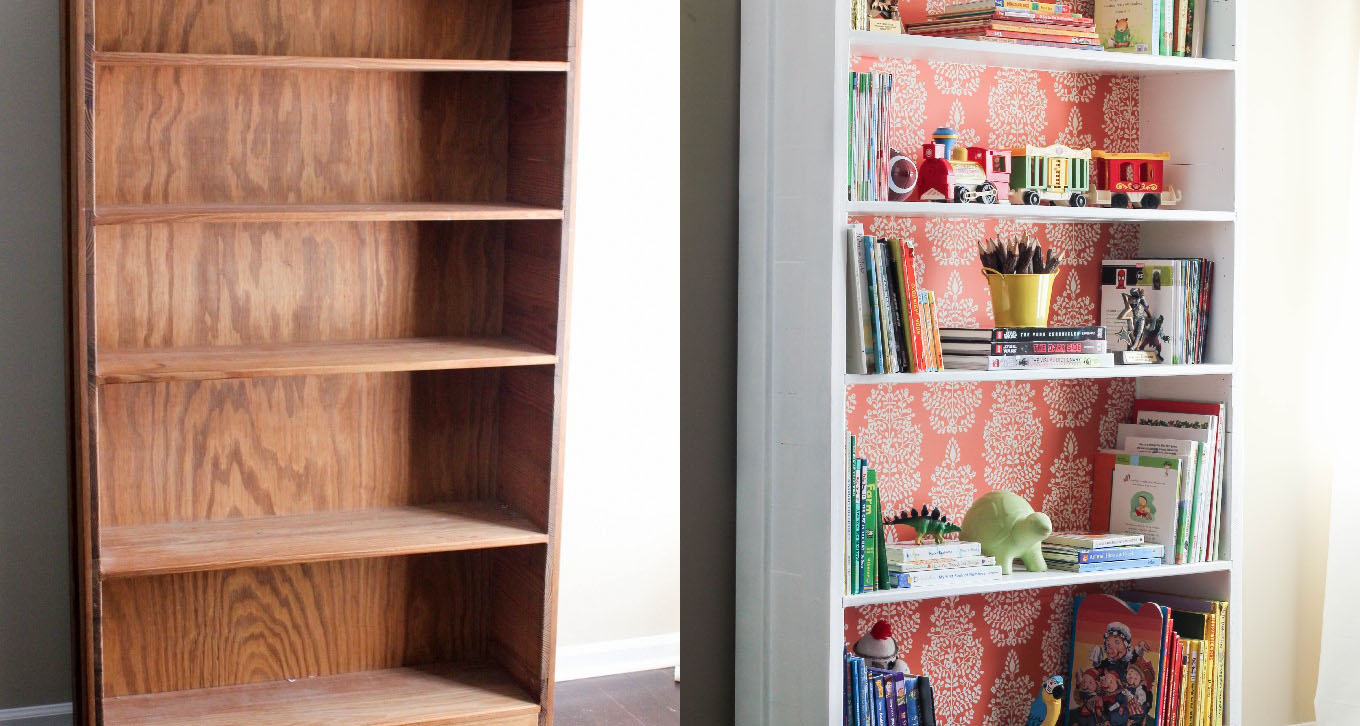 You can start by adding a fresh coat of paint if your bookshelf needs a total makeover, otherwise all you need to do is measure the back panels of the shelf, cut out your desired wallpaper, and apply! A great option for this is removable wallpaper, which can be reused, repositioned or removed when you want to change up the look again in future.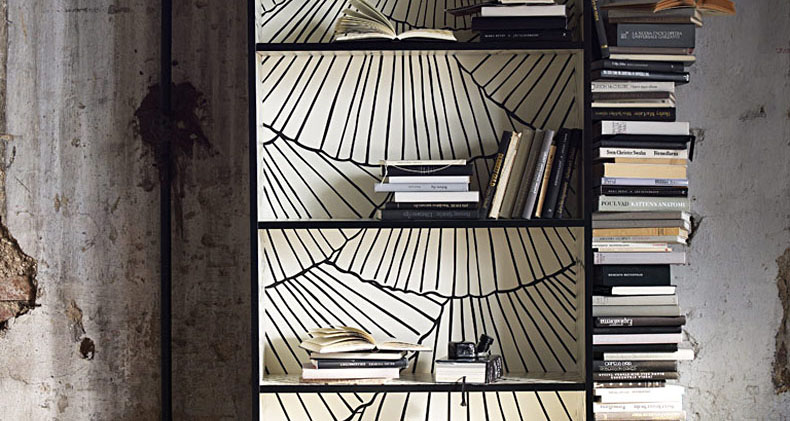 Staircase

 
Removable wallpaper is also a great option for those living in a two storey home which feature a  dull-looking staircase. This self-adhesive form of wallpaper is perfect even for those renting, because as mentioned before, you can use it give your place a personal touch with no commitment since it's basically like a huge sticker that can be peeled off. All you have to do is measure the pieces to fit the front of the stair risers, peel off one end of the backing, smooth down and continue to peel the other end as you line up the piece of wallpaper. Complete in only a few simple steps!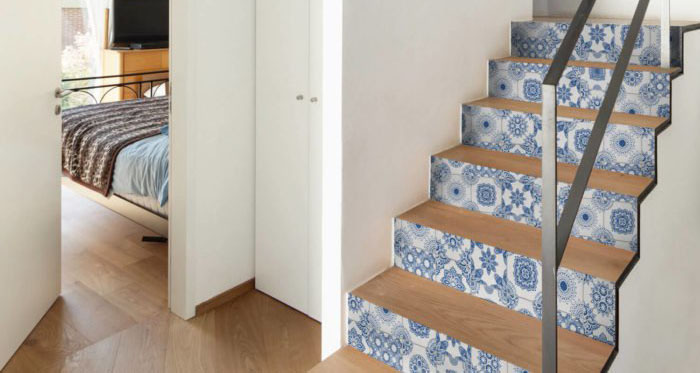 Drawers

 
Your bedroom is home to many opportunities for some crafty wallpaper work. Transforming a chest of drawers with wallpaper gives you many options to change up the vibe of the entire room, and you can even coordinate it to match your new wallpaper bedhead! Removable wallpaper comes to the rescue yet again, with it being as simple as cleaning the surface with an all-purpose cleaner, measuring up the drawer faces, cutting the paper to size and sticking them on the front of the furniture. Cut spaces around the handles or remove them when applying the wallpaper. You can even apply to the sides of the drawers, so you can catch a peak at the pop of colour when pulling out the drawers. Wallpaper can even be lined along the bottom of the inside of the drawers, so you can see the patterns peering through as your grab your outfit for the day!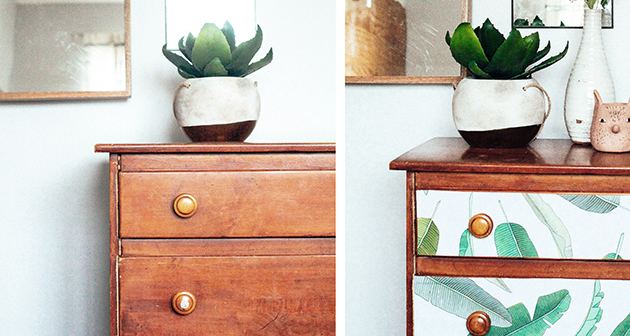 Table tops

 
Considering we spend so much time in our kitchen and living areas, it's no doubt that these areas need some love too. Wallpapering your table tops is not only a great way to bring some life to these areas if you've got a blank piece of furniture, but is also a great way to protect the the surface from any potential spills or those stubborn coffee cup marks that accumulate when you're enjoying your caffeine fix. If you're not confident enough to go big by wallpapering your whole kitchen table, have a go at decorating your side tables or even your coffee table instead. If the table is small, simply place it upside down on the sheet of removable wallpaper and trace around the top, cutting to size with scissors. Peel off the backing and stick to the table top, and if there's any overhanging paper, place table upside down again and cut off excess with a craft knife. For large tables, measure the table and line pieces of wallpaper up when sticking on top to the correct size.
These crafty wallpaper tips will kickstart your DIY addiction, keeping your weekend busy and leaving you with that sense of accomplishment that you only get when you know you've made something incredible with your own hands. If you need some more DIY inspiration, we've got plenty of other
DIY home decor ideas!
If you'd rather get a hand around the house, hire a professional instead!  Get Quotes Now
About the Author

 
Georgia is one of the Web Content and Marketing Specialists at Service.com.au, a trades and services platform that connects everyday homeowners to local service professionals. When Georgia isn't writing articles with ♥ from the coast of Australia, she is trying to hit her personal bests with weightlifting at the gym, and looking for the next creative activity to pursue, whether it be drawing, craft or cooking.