Rustic focal feature

 
Keeping your room simple and adding a hero piece, such as a wooden sink bench, is one of the strategies used in all of the best rustic home interiors. This draws attention to the main piece of rustic farmhouse decor, while the rest of the bathroom design complements this key item. 
Another attention-grabbing piece of rustic home decor is a rustic chandelier or vintage lighting fixture. Picture wooden frames, black steel and vintage light bulbs, or even a bronze chandelier with tinted glass bulbs, as a unique statement lighting idea.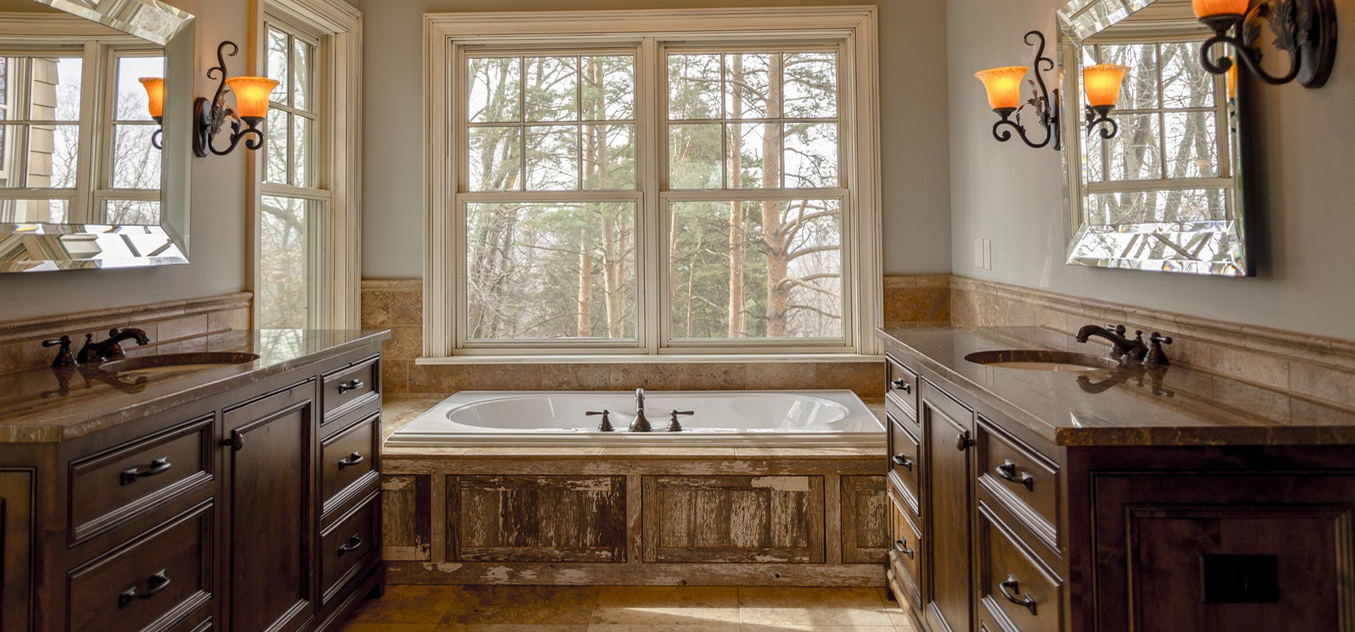 Incorporating a vintage mirror into your rustic theme is also one of the most effective country decorating ideas. Choose materials such as worn timbers for the frame, with metal hooks for extra functionality to hang hand towels or toiletries. If you can't find the perfect antique mirror or you're trying to save money and are on the hunt for cheap rustic home decor, this can be the ideal opportunity to try creating a DIY rustic mirror that is the best fit for your bathroom design, as not all rustic homes are identical. Before you attempt this, make sure you check out our top tips to guarantee a successful diy project.
A classic freestanding bathtub also makes for a stunning focal piece. A white with ornate metal claw feet is simple and effective, or if you want to really turn it up a notch, a copper or galvanised bathtub is another one of the best rustic home decorating ideas.
If you really want to wow your guests upon entering your farm style bathroom, adding on a beautiful barn door is the answer! This focus on beautiful timber can also be extended to wooden flooring and timber shelving to keep the consistency throughout the space.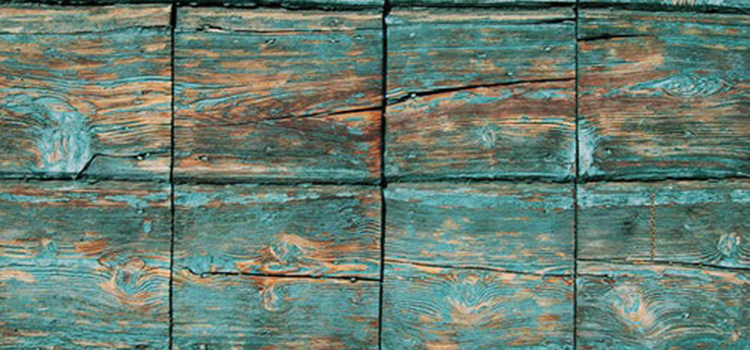 Rustic tiling

 
Keep it vintage. Old school tiling can help personalise your bathroom. Using smaller sheets of tiles makes for easy installation. Light tiles create contrast between wooden elements in the room, classic to the rustic look.
Natural tones such as creams and browns are a good option, as well as choosing rustic stone for a worn, lived in look to perfectly pair with the rest of your rustic home decor.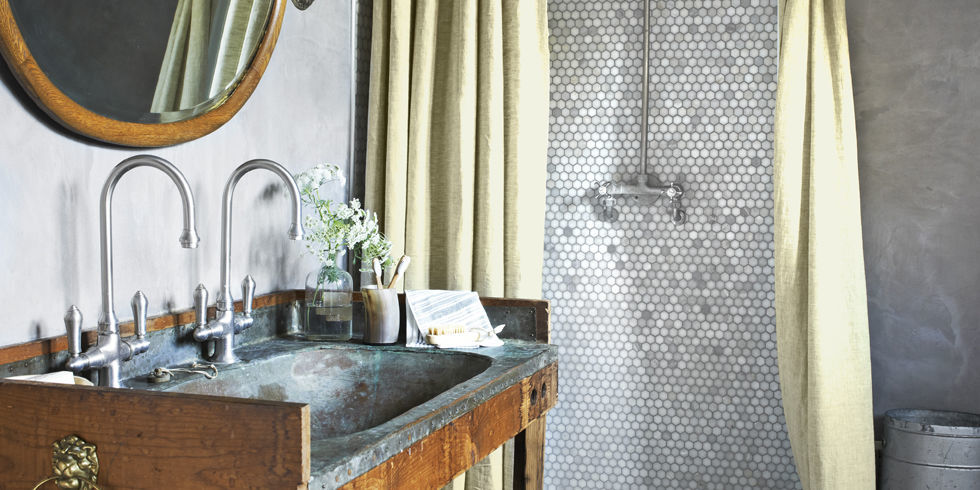 Rustic bathroom accessories

 
Carefully select your bathroom fittings to complement the other rustic furniture in your bathroom. This is one of the best cheap rustic decorating ideas, as fittings can easily be updated and they are an affordable bathroom improvement - you could even hunt down some pre-loved traditional fittings, such as taps and faucets, towel racks and hooks on online marketplaces or at your local antique shops. Brass and chrome are the best materials to feature alongside the rest of your timber details.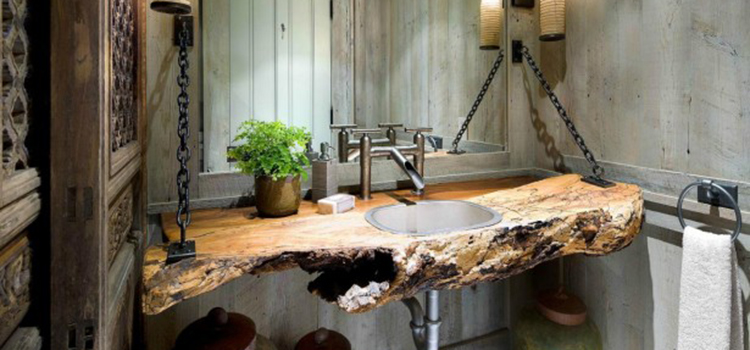 Rustic artwork

 
Hanging hand-painted, rustic artwork in your classic bathroom is a wonderful way to add to the homely, inviting appeal of your rustic themed home. This is also a great way to support local, talented artists! You can also check out your local op shop for farm style art, focusing on images of nature and landscapes.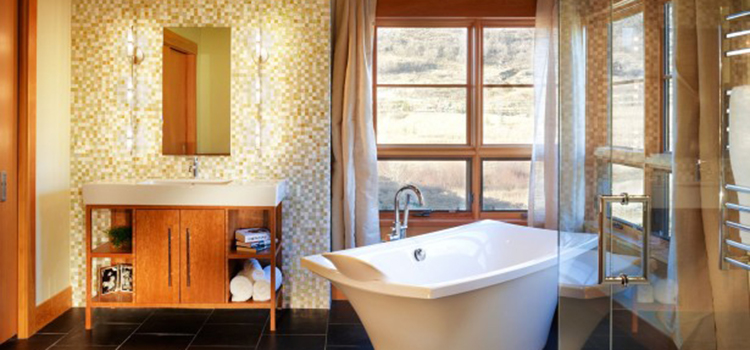 Repurposed vintage decor

 
Repurposing old decor into rustic country furniture is not only an effective way to create a rustic home like no other by having a unique piece of furniture, but is also a great way to do your part for the environment by reusing rather than buying a new item, helping you live a more sustainable lifestyle. One awesome option is to repurpose an old dressing table to be used for bathroom storage. You can repaint the dresser in the perfect rustic paint colours, such as grey over pine, or a pastel blue which can be sanded back to add some rough, worn effects to add to the rustic texture. This is a versatile piece of furniture that can easily be moved when you'd like to rearrange the room.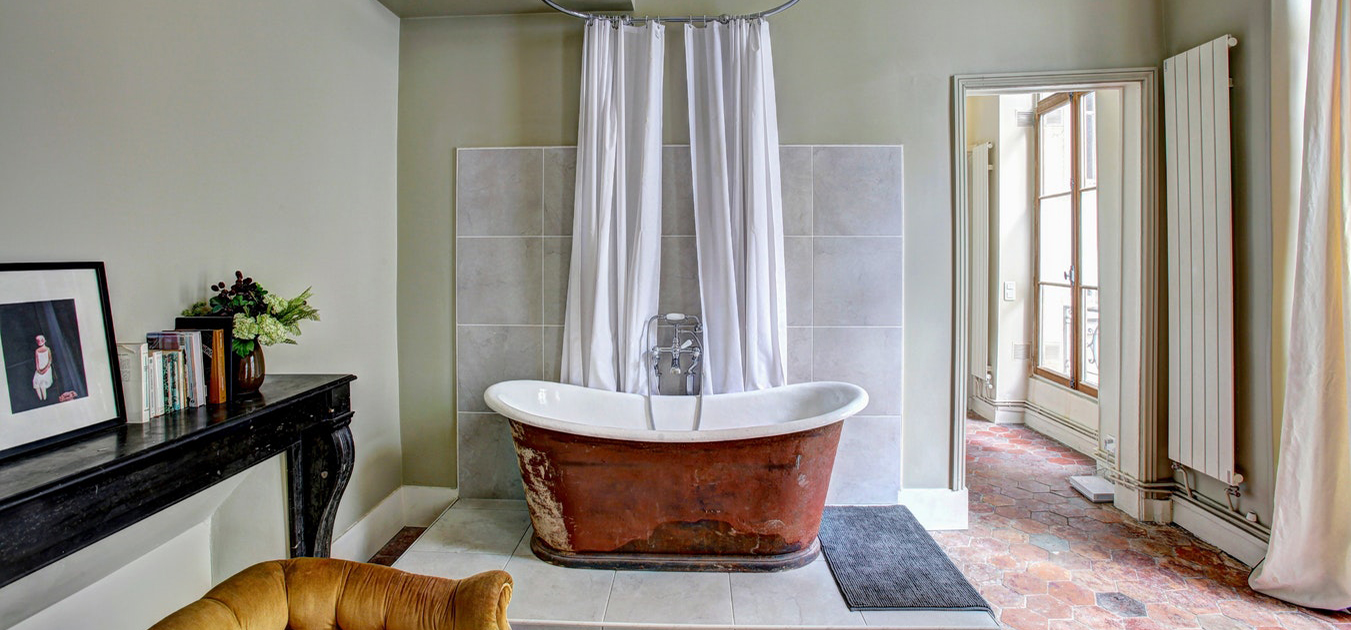 Rustic wooden pallet furniture

 
Reusing wooden pallets is another versatile choice, as you can put your DIY skills to use by transforming them into wooden shelving, or even a handy bath caddy, perfect for relaxing in your vintage bath with a candle, a book and your favourite beverage! These are just a few of the ways to spice up your home décor without saying goodbye to old furniture.
There are so many easy ways to add a rustic feel to your home, and your bathroom is the perfect place to start!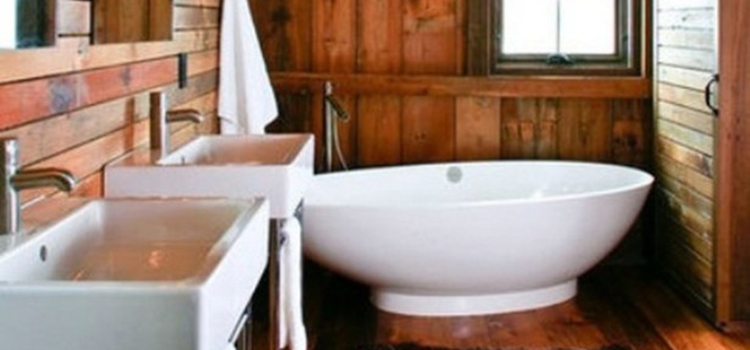 Bring your dream bathroom to life, get quotes from local professionals in bathroom renovations.
 Find Local Bathroom Renovation Professionals 
Further reading:
How much does a bathroom renovation cost? | 2019 cost guide
Budget friendly renovation secrets
Incredible before and after home renovation photos
10 ways to increase the value of your property