Pergola ideas for your next home renovation
31st Mar '21 • By Shreya Kulkarni
An attached pergola acts as an extension to your home, deck, entryway, or garage. Take a look at these beautiful pergola ideas for your outdoors
Offering shade and structure, pergolas are a great way to add beauty and function to your yard. Place one over a deck, patio, or corner of your backyard to instantly create an inviting outdoor room. If you are thinking of your next renovation project or simply want to spruce up your backyard, getting a pergola is a way to go. Your local carpenter can give you advice on where you should construct it.
A pergola is a basic yet practical garden structure that can serve multiple purposes. It can be a place to put your outdoor setting to ensure it is undercover, or it can simply be a place that offers shade and privacy within your garden. Lacking space? Don't worry. You don't have to have a massive house to build a pergola. Explore these pergola ideas to help you find the best design for your backyard.
Timber pergola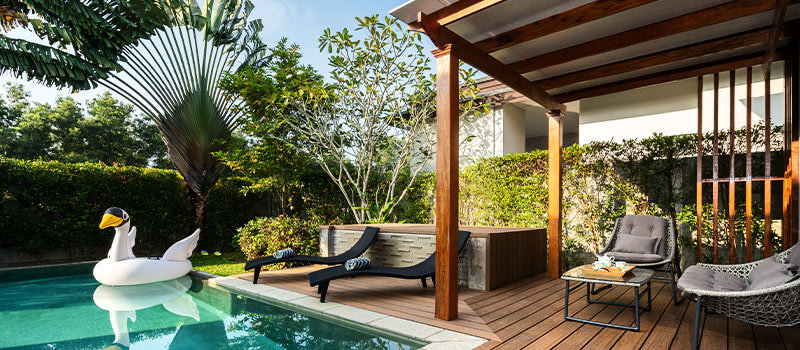 Opt for a classic design in timber that can be stained or painted in a colour that blends with the rest of the landscaping. Timber pergolas have the advantage of being a natural product with a natural look, feel and texture which many homeowners seek. Hardwood or treated pine are most common through both require regular maintenance in order to protect it from the elements. If you have a contemporary space, stay away from doing too many details in the timber while building a pergola. For a more stylish design, powder-coated aluminium with a polycarbonate roof would be a much better option. The curved construction means you can cover a wider area than a traditional timber pergola. If you have a small backyard, get a timber pergola with a dark stain and a shade cloth to match it.
Louvered pergola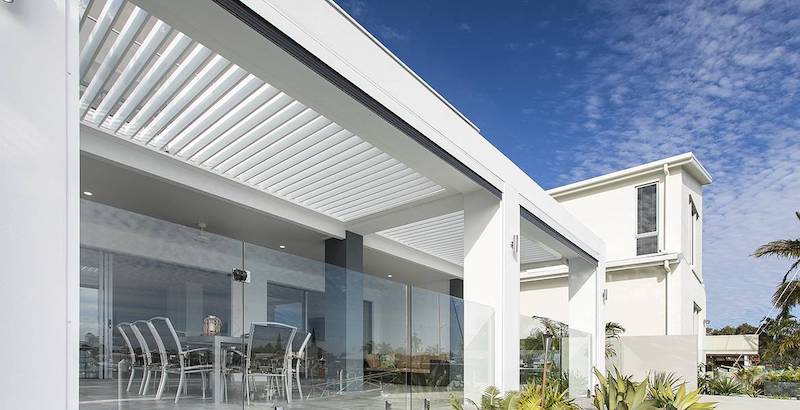 The benefit of a louvered pergola is that you can change the roofing to allow in more light or provide more shade thanks to the adjustable mechanisms. It allows you to control the amount of sun or shade you let in without retracting the entire roof. This particular design can be attached to the house and looks best when wrapped around the side of the property, providing shelter and a place to hang out during summer. The navy and the cream colour palette is a classic colour combination. For the most versatility, the pergola roof is made to be retractable and adjustable so it caters to all events and weather. In the case of a small house, you can extend the living areas onto the terrace or patio area with vertical supporting posts removing the divide between the indoor and outdoor living spaces.
Modern pergola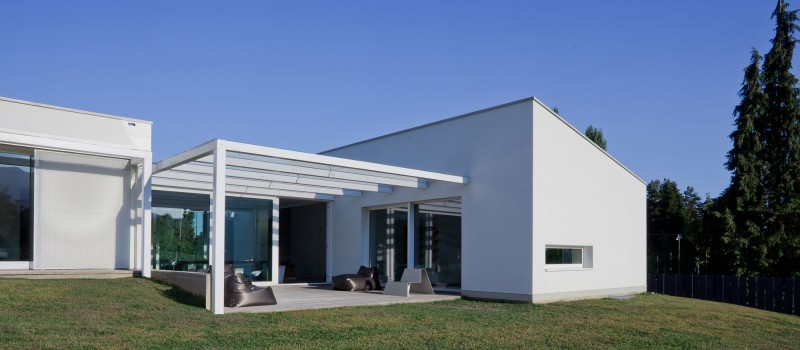 Add something slick and modern touch to your lush garden. The intricate metal shade adds glamour to the edgy solid black pergola and silver furniture. Streamlined structures, perfectly positioned slats and dramatic lighting are key ingredients for a modern minimalist style. Minimalist pergola designs work best when incorporated throughout the entire yard. White lattice panels, posts and beams in pergola designs pair beautifully with black furniture for a modern and timeless look. Keep it minimal by embracing colour in modest ways and clean the clutter by providing ample storage solutions within the space. Details can be implemented through laser-cut screens, flowing curtains and accessories.
Thatched pergola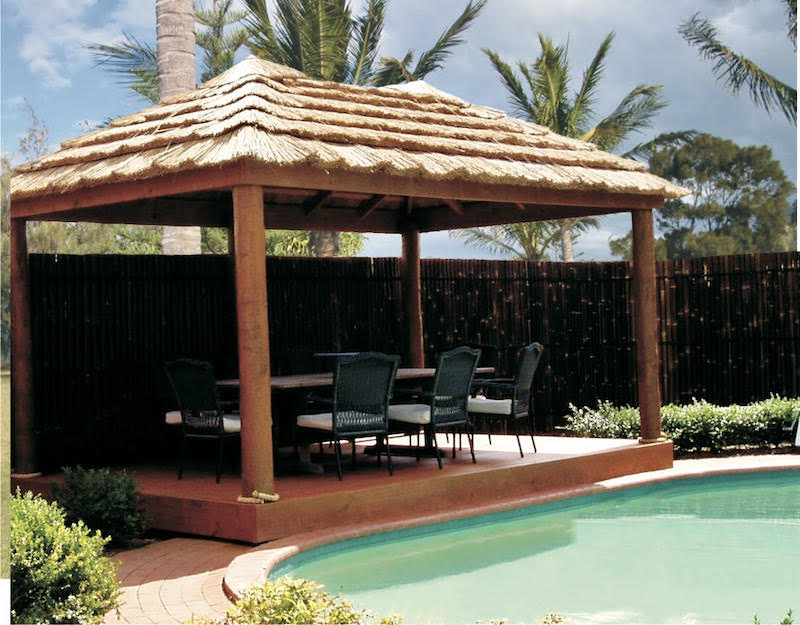 A thatched pergola is the perfect way to inject jungle vibes into your garden or make you feel as though you're on permanent vacation on some tropical beach. The structure is the same as any traditional pergola, and the roof can be pitched or flat, just use a natural plant-based product to thatch the roof rather than timber or any other material. Pergolas that feature wooden rafters and side lattices create a rustic feel. Wooden rafters can also be painted white for a romantic and charming appeal. Soften the area with comfy chairs, cushions and throw rugs. Rugs can truly transform a space. Installing a small fountain or other running water feature will give the space a peaceful feel too. Add to the rustic romantic ambience by adding a working fireplace or fire pit table to the area.
Traditional pergola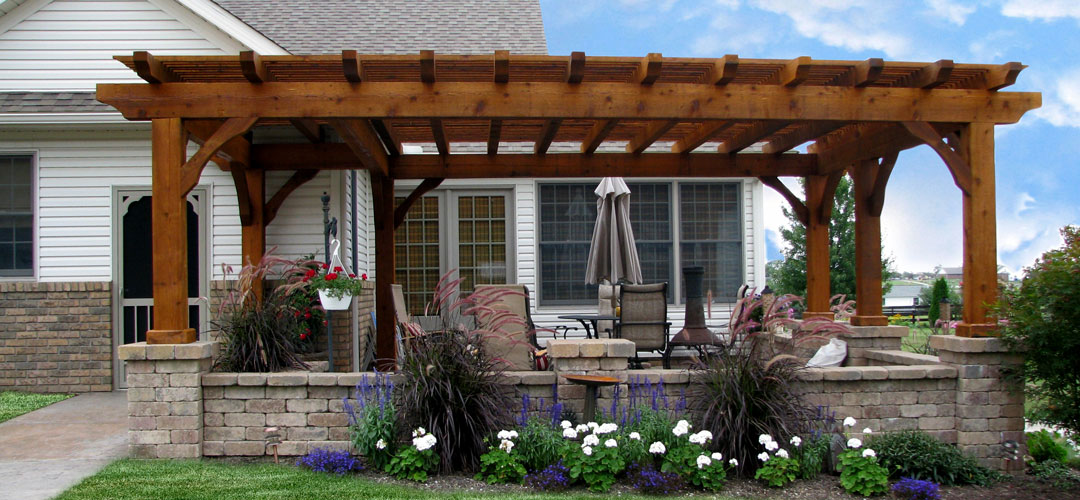 Depending on the purpose of your pergola, it may serve more as a decorative feature. Such pergola designs are used to accent a home. By attaching a pergola to the property, it helps connect the two spaces together. 'Over the door' pergolas are also similar, adding architectural style to traditional homes. Use textural materials to soften the transition against other solid materials and between inside and outside deck space. Made from timber and located within a small backyard, this traditional pergola design idea shows just how romantic and beautiful climbing plants can be. Just add fairy lights and lanterns for a fancy occasion.
The installation of the pergola should be completed by a qualified carpenter. The best way to hire the best carpenter for the job is to view their past work on pergola installations specifically. If you like their previous work and they have solid reviews of past customers with reasonable rates, you've found your pergola installation expert.
Top: Make sure to hire a qualified electrician if you want to run power to your pergola.
Get free quotes in minutes.
Get quotes from our qualified and licensed tradies Australia wide.
Posted under