How are solar panels installed on tile roof
17th Dec '20 • By Rohit Mankame
Want to reduce your electricity bill significantly and you're considering getting solar panels installed on your roof? You'll first need to know if your roof is appropriate for solar if you're thinking of joining this increasing number of people getting solar roofs.
Solar energy can be a nice home upgrade, but you might want to know how much does it cost to install solar panels? It may be a massive expense to get solar panels or solar tiles installed, but solar power will pay for itself in the form of reduced electricity costs over time. Here is a list of things you should avoid before buying solar panels..
Solar panels are more powerful and less costly today than ever, but that's not the end. Solar cells as thin as a sheet of paper were fabricated in 2015. This has a power consumption of 20 percent and can generate up to 50 watts of power per square metre. They are inexpensive to manufacture and have been a blessing to developed nations, where the average consumer is too costly for conventional solar panels.

How are solar panels installed on tiled roofs?
Solar panel installation can be done on many types of roofs, and tiled roofs are the most common kind in Australia. The tiles are stripped and the rafters are screwed to the stainless steel brackets and the tiles are then re-installed in the previous position. The railing systems are mounted on the steel brackets leaving a clear space between the roof and the panel. This allows for air circulation to get between solar panels and tiles and for the air circulation to cool the solar panels in the hot summer months.
The rails and brackets are being used by the solar panel mounting system to connect the solar energy system to the roof frame. The frame weight and the panels are distributed around the covering area. Solar panels are solid, but their weight is relatively light. The overall weight of the tiles, brackets and frames is around 22 kg per square metre of roof area. Australian roof requirements in non-cyclone areas allow for this weight range to be applied to roofs without the need for extra bracing.
A variety of styles and brands of mounting systems are on the market. For the right system appropriate for your roof type, please get in touch with Service.com.au

What factors do you need to consider if your roof is suitable for solar panels?
Is your roof structurally sound?
Solar panels are heavy. So, the bigger the system the heavier it will get. The professional roofer will assess the strength of the roof. It is also necessary to make sure that the panels are capable of supporting your roof. In most cases, it is more than adequate for solar but in some cases, but the roof may need to be strengthened in some cases before solar can be installed, contributing to the overall expense of the device.
What angle is your roof?
Solar systems are best equipped to be installed on roofs between 10 to 45 degree angles. You can also add solar systems if you have a flat roof, but it will cost extra as you will need to mount special tilting brackets that keep the panels at the right angle in the appropriate position.

What direction does your roof face?
It is better to have a north facing roof on any form of solar system, as this gives you the best sun exposure during the day. This is also okay if the roof faces east or west, but a roof facing south is not suitable at all. If you have a south facing roof, your installer will consider installing the solar panels on brackets on the ground instead to increase their performance.
Get free quotes in minutes.
Get quotes from our qualified and licensed tradies Australia wide.
Is your roof shaded?
If the roof is shaded at all, is another factor that you'll need to remember.Shading will come from huge trees overlooking the roof or also from neighbouring buildings. You will want to eliminate any trees or objects that cover the area where you want to put your solar panels, if it is possible to do so. If there is something that can not be replaced, such as the two-storey home of your friend, the installer can shift the panels to maximise their performance.
Is your roof tiled or colorbond?
There is no extra charge to instal a solar power system if you have a metal roof like a Colorbond roof. However if the roof is tiles, an additional fee would incur in order for the professional to source and instal the additional stainless steel brackets needed to properly hold the system.

What are the different types of solar roof tiles?
Now, solar panels will no longer have to be mounted on the roof. The development of solar house tiles has been made possible by thin film solar cells.
An Australian firm, Monier, is now manufacturing solar roof tiles. 5 kilowatts of power can be provided by 375 tiles. That amounts to about 10% of the average roof area.
Tractile, another Australian firm, manufactures solar roof shingles as well. The machine at Tractile will generate both hot water and solar energy. The Tractile system, according to their website, is a 'four-in-one' system that also offers insulation.
The Tesla Solar Roof is the first manufacturer on the market to produce solar roof tiles looking like standard roof tiles. They currently come in textured finish and have a warranty of 25 years! Moreover, tesla roof tiles have a high hail and fire rating making the expensive but a very safe alternative for your house.
Roof tiles are the future of solar energy, and in the near future, more brands are expected to become available. Although they cost more than normal tiles, with lower energy costs, they look nice on the roof and can pay for themselves over time. You do not need to pay for electricity at all, depending on the amount of solar tiles you order.
Get free quotes in minutes.
Get quotes from our qualified and licensed tradies Australia wide.
Our certified experts in roofing have years of experience building solar roofs. If you are seeking a solar roof, contact service.com.au and we will refer an expert to help you decide what type of roofing materials are appropriate for your house and your budget. Post a job on our website if you already have a solar roof and are having any issues with it. Any way, we will do our utmost to ensure that you and your roof are serviced at the earliest.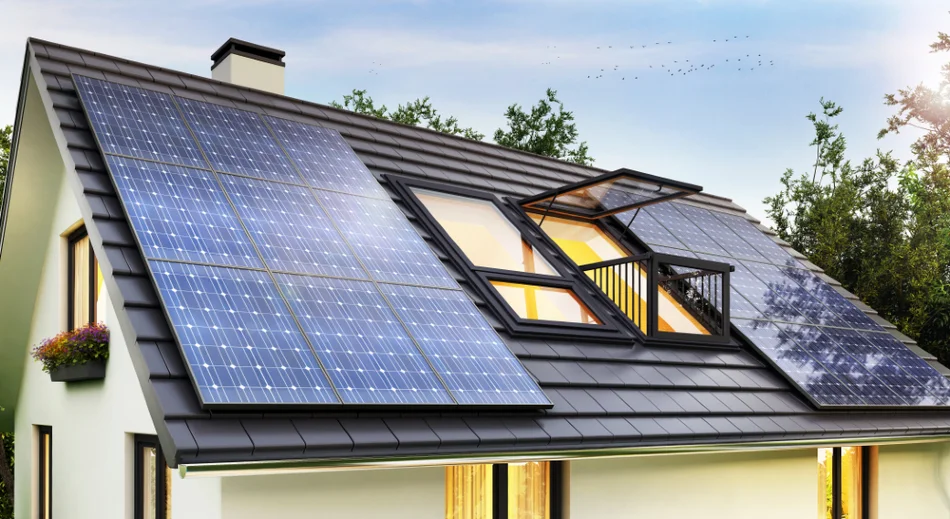 We provide thousands of Service.com.au users with various businesses everyday, ranging from interior design to carpenters and roofing professionals. Simply search for tradesmen in your area and select the business that suits your needs.
Either call them directly for a free quote, post your own job to receive multiple quotes from your local tradesperson or simply call our office directly, and our friendly staff will be more than happy to help select the perfect business to suit your needs.
If you're needing help finding a roofing professional for your latest roof installation, click the link below to receive multiple quotes from roofing professionals.
Get free quotes in minutes.
Get quotes from our qualified and licensed tradies Australia wide.
Posted under