Do garden studios add value
6th Nov '20 • By Rohit Mankame
The most common problem is when your family grows but your home doesn't. Moving or buying a new house is a costly affair! Do you want a cost-effective and time-efficient way for your house to add space and value? Then building a garden studio could be your answer.
There are a lot of different garden studios styles and designs to choose from modern styling to typical traditional styles. Before you make a decision, you should consider the amount of space available in your garden and also determine which part of the garden you want to build your studio, so that it doesn't compromise the rest of garden design. Once it is built, you can camouflage it within the garden to create a private, secluded area and this will also help increase the value of your property.
What are the types of garden studios?
Pre-Made
Pre-Made garden studios are ideal if you can find a design that can fit the space in your garden. They are a cost-effective way to add a workplace to your property. The advantage of installing pre-made studios is that you will be able to easily personalize them with decorating touches according to your tastes.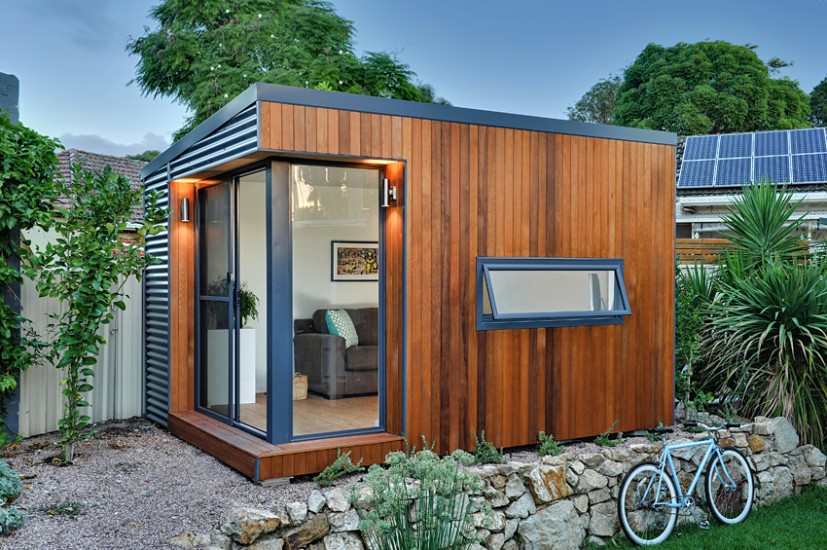 Custom
If you have an unusually shaped garden, you will be better off ordering a custom made garden studio to fit the exact dimensions of your garden. Keep in mind that this is a more expensive option, but you will gain the advantage of having a unique design and will also add value to your property.
What are the 4 ways the garden studio will add value to your property?
Increase in Floor Space
Buyers are attracted to homes that have a good amount of available floor space. For this reason, many homeowners now favour open plan conversions. The additional floor space they will need will be provided by the garden studio or office. It does not matter what you actually use this space for, customers can use it for whatever they choose to after they purchase the property.

Attracts Business Owners
Having an on-site workspace that is separated from the house is a major advantage for small business owners. It offers them a place to work where they will not be interrupted, and should they be needed, they are close to their families in the house. This also means that they will save time and money spent travelling to an office. Many professionals are willing to pay a higher price for a property that includes this feature.
Get free quotes in minutes.
Get quotes from our qualified and licensed tradies Australia wide.
Increases Appeal
Even the most simple gardens look spectacular with the inclusion of a garden studio. The attention of your potential homeowners will be drawn to the garden studio and they will end up imagining how they can use it and transform the garden. If you are looking for something to change the look of your backyard, you can pick from many different styles and sizes. The most ideal design pieces are the wooden summer houses and offices that are custom made for the gardens.
As garden studios are standalone features of the house, they act as a bonus feature to the homeowners and add value.

Speeds up the Sale
Garden studios become a unique feature of the house. As we have seen, it not only makes a positive visual impression, but it also allows your property to stand out to prospective buyers before they have even arranged a visit. If your street has three similar properties for sale and one of them has a garden room, it is most likely that the house with the garden studio will attract a higher number of views and inspections. This makes it more likely to be sold quickly. Potential buyers will tend to stick close to the asking price to ensure they don't miss out due to the high interest in the property.
Get free quotes in minutes.
Get quotes from our qualified and licensed tradies Australia wide.
How much does it cost to build a garden studio?
The obvious answer is "it depends". But for a quick, simple basic 4m x 4m house will cost upwards of $8,000. A large garden studio with premium wood will range all the way up to $35,000. The majority of them will fall somewhere in between.
Of course, no two garden studios are the same. This is why we have broken down this issue into a variety of different variables so that you can get a better idea of what kind of cost you would be looking at for your new garden room.

What are the cost variables?
Dimension of the garden studio
Types of materials used in construction
Usage of the studio (simple studio or studio for business purposes)
Cost of labour
Customization (Pre-made or Custom type)
Location (if the house is located in a urban or regional area)
The key here is quality. A badly designed garden room is more likely to discourage potential buyers than add value, so make sure you select a reputable designer if you are buying a garden room.
If you invest in a luxury garden studio with an additional bedroom, large living room and/or bathroom, then the value increase could be greater.
Service.com.au provides thousands of users with various businesses from interior design to gardening and building consultants. Simply search for tradesmen in your area and select the business that best suits your needs.
If you're needing help finding a professional gardener or builder for your latest project, click the link below to receive multiple quotes from your local trusted professional gardeners and builders.
Get free quotes in minutes.
Get quotes from our qualified and licensed tradies Australia wide.
Posted under