How to remove stains from your carpet?
5th Oct '21 • By Shreya Kulkarni
If you have even dropped or split anything on your carpet, you know how hard it is to get rid of. Use any of our stain removal ideas or hire a professional cleaner to help you with those.
Your carpet bears the wear and teal from your shoes, spills, and pets. Despite the carpet gaining accumulated clouds of dust and specks of dirt, the carpet gives so much warmth and comfort. That is why extensive efforts are exerted to keep it clean. A carpet that is cleaned regularly may require minimal effort for maintenance. But if it took you more than a week, or worse, months to clean your carpet, it may require extra effort to brush off all unwanted stains on its surface.
Article Overview
How to remove stains from your carpet?
How to do a carpet cleaning routine?
What are common carpet stains and how to remove them?
How to remove stains from your carpet?
Your carpet is very prone to coffee stains, chocolate stains, mud stains, oil, glue, and even the pee of your fur baby. All these stains mark a dark spot and a foul smell on your carpet. While you can DIY your carpet cleaning, some types of stains need professional work to be driven away from the surface of your carpet. In that instance, you will need a professional cleaner to address the specific stain issues of your carpet. Stains are sometimes hard to find, especially when you have a dark carpet. But if the cleaner is well-rounded, no stain shall pass through the cleaning process. Hence, you can have efficient carpet cleaning in your home.

How to do a carpet cleaning routine?
A carpet cleaning routine is essential to help you maintain your carpet clean and tidy regularly. A carpet cleaning routine is best if you have limited time to clean your carpet. These are quick and easy steps on how you can get rid of stains on a daily basis without consuming too much of your energy and time for the rest of the day.
Get rid of dust and dirt
You should get rid of dust and dirt daily. When these particles are pressed and scattered in your carpet, it can cause a hard-to-remove stain. If you let it accumulate within weeks or months, it will be a thick pile of stain on your carpet. Getting these stains to your carpet fibres is what causes the foul smell and ugly dark spots on the surface. You can use a vacuum with strong suction can help you get the tiny pieces of specks of dirt and clouds of dust that got into the fibres of your carpet.
Here are some tips that you can consider when removing dust and dirt from your carpet:
Remove all items in the carpet, such as the centre table, sofa, and other pieces of furniture that might get in the way as you vacuum your carpet.
Move slow while vacuuming the carpet and make sure to pass through high-traffic areas, where people and pets mostly stay, walk, or play.
Use a wide vacuum tip to cover large areas and finish the work quicker.
Spot-clean your carpet
The second easiest and time-efficient way to get rid of carpet stains is spot-cleaning your carpet. Spot cleaning means not necessarily cleaning your whole carpet surface but cleaning the spots with stains particularly. You can spot-clean your carpet as soon as it gets a stain, or you can look for possible spots with stain and address each one even after the moment the stain already dried up.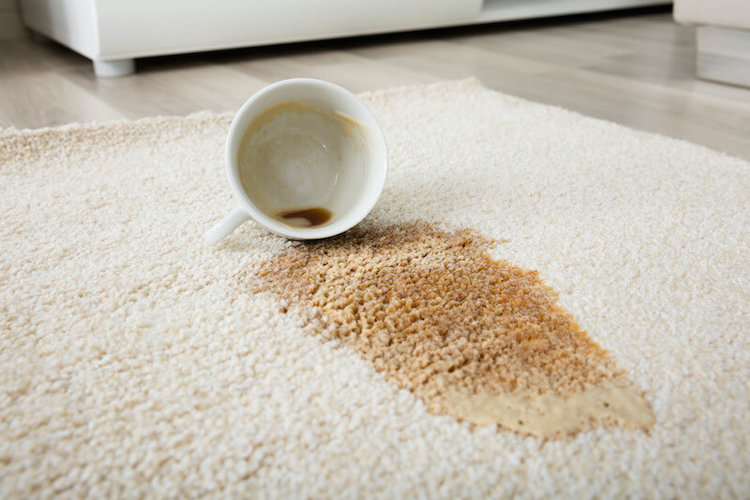 To spot-clean your carpet as soon as it gets a stain, you can use a tower or tissue to absorb liquid stain directly. By doing that, you can present the stain to get in the fibres because the paper or cloth will absorb it. For the stains that already dried up on the surface, you can use baking soda and vinegar to rub them off. But be gentle because too much rubbing might scratch the fabric of your carpet.
What are common carpet stains and how to remove them?
Here is a list of the common stains that your carpet might get. It is essential to know what specific actions you should take to get rid of specific common stains. Remember that these are only basic remedies. The effectiveness of each method of removing stains depends on the volume of stain in your carpet.
If your carpet is thick and you have not yet cleaned it in the last few weeks, you can get multiple cleaner quotes to get the best deals in your area and hire skilled cleaners to clean your carpet and clear it from any marks and smell of stain. Cleaners have the right tools and equipment for cleaning and maintaining your carpet. It is a wiser choice to have a skilled cleaner clean your carpet. To find out how much a cleaner costs, read this article.

For Oil and Grease stains
For oil and grease stains, you can put a paper towel above the surface where the stain is located and iron it until the stain melts through the heat. The paper towel will immediately absorb the stain and prevent it from further penetrating the fabric of your carpet.
Glue
If your children love to do art and school work on your carpet, they might cause their glue to stick on your carpet. But no worries because you just need to wet a cotton ball with rubbing alcohol and wipe off the glue on the surface.
Juice, Coffee, and Other Colored Liquids
For sure, you and your family love to do movie night bonding, coffee time, or just snack time on your carpet. If you accidentally spilt a drink on the carpet, do not worry because you can still resolve it. You can use vinegar and baking soda solution to clean areas where a liquid spill left a spot. The baking soda and vinegar will soften the fabric and remove the stains and odours on the surface.
Mud
For the areas of the carpet with mud, you can let it dry and vacuum it later on. Avoid rubbing the surface while the mud is still soft. It will scatter and get into the carpet fibres, and your problem will only get worse. Wait for it to dry instead. After vacuuming the dried mud, mix a teaspoon of dishwashing liquid with a cup of warm water and gently blot over the area as needed until the stain fades.
Get free quotes in minutes.
Get quotes from our qualified and licensed tradies Australia wide.
Posted under