How to decorate your balcony for less
23rd Oct '20 • By Rohit Mankame
If you live in a cramped city apartment or unit, it's doubtful that your balcony is anything to talk about to your friends or family. There are, however, several affordable ways to make your balcony a luxury haven for everyone. Here are our ideas...
If you live in a cramped city apartment or unit, it's doubtful that your balcony is anything to talk about to your friends or family. There are, however, several affordable ways to make your balcony look less like a ledge with ideas above its station and more a place where you can enjoy a barbeque, or where you could enjoy some cocktails or wine. We've got some great, affordable ideas to make your balcony a more usable place where you'll want to take time and relax. Here are our favorite ideas.
What are popular balcony decorating ideas?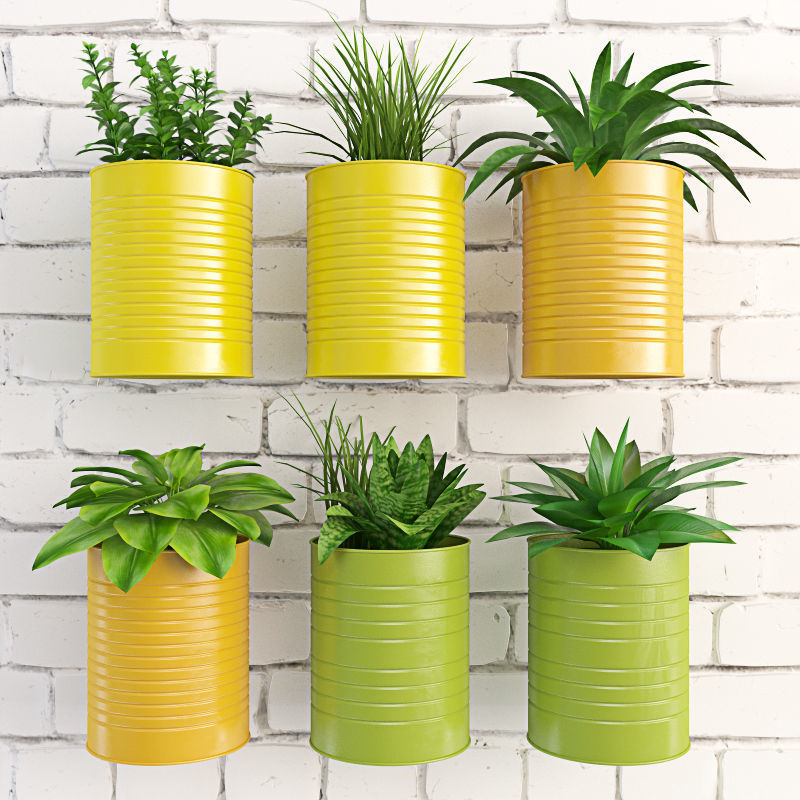 Plants and flowers
A good place to start is by decorating with greenery. Be creative and use multi-coloured pots and hanging vines, as this will help brighten your balcony and bring it to life. If your balcony adjoins another, vines are perfect for creating privacy without shutting the space off.
Plants can be costly, If you're low on space, you can plant them in cans. Cans can be recycled and be converted to hanging part containers. It is ideal to clean and paint them in bright colours and drill holes at the bottom of the can to let the water drain.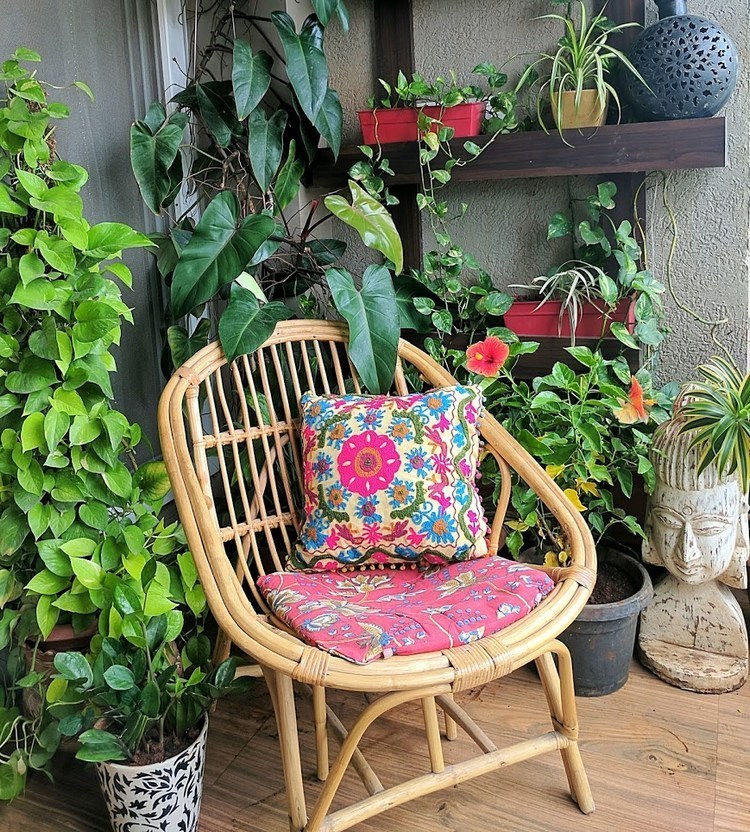 Second hand cane furniture
Hit your local thrift shop or flea market to find the perfect cane furniture set for your balcony. One or two chairs, with a small table works best for a small balcony space. Pair chairs with colourful cushions, they will make the space more comfortable and are also a great place for introducing a splash of colour.
If you are skilled as a carpenter or have basic carpentry skills you can build a spectacular piece of multifunctional balcony furniture. You can implement designs that combine seating space with both a bench and vertical storage.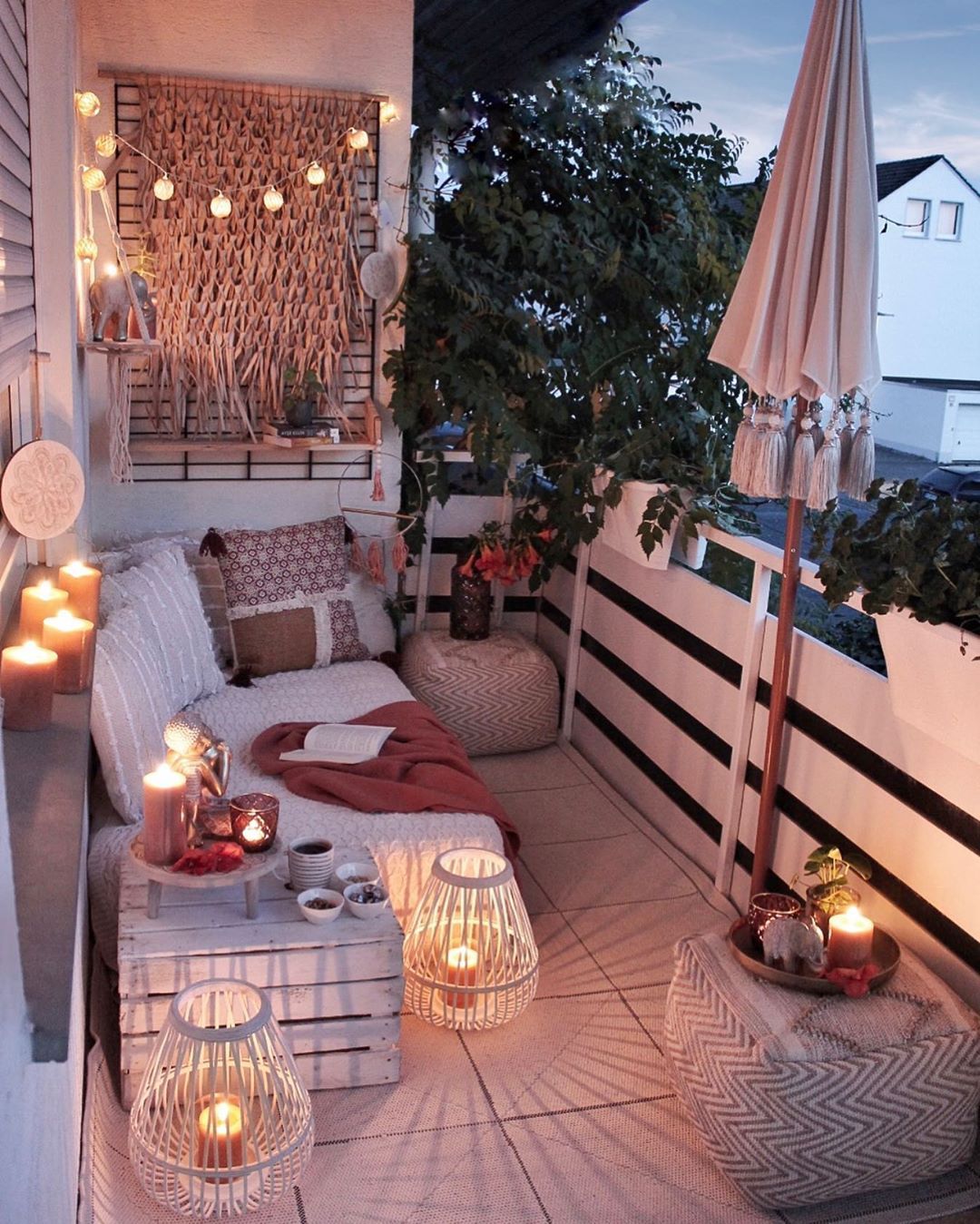 Lights and lanterns
Fairy lights are a simple, but effective solution. Fairy lights consume no floor space and are still remarkably elegant when the sun goes down, despite their ubiquity. Providing that they are not multicoloured or that they flash like a Christmas tree, that is.
They will turn on automatically as soon as it gets dark, ensuring your outdoor room will look welcoming and inspiring before you have even walked outside. Invest in a range of solar-powered ones.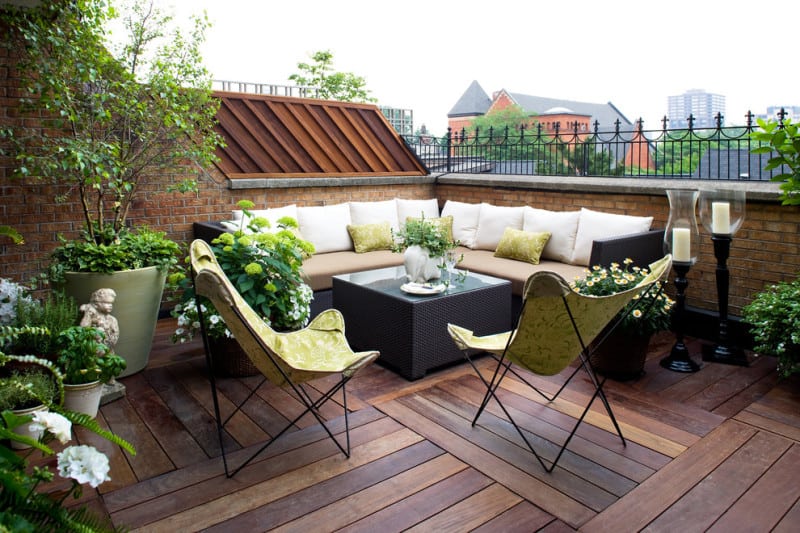 Creative sitting area
Unfortunately most balconies become a place for storage and aren't utilised to their full potential. Creative sitting areas that double as storage are a great way to get the best of both worlds. You can place cushions over storage crates or trunks to create a quick sitting area. If space isn't a problem, a trendy balcony addition this season is a chair hammock. Sit back and read a book on your hammock, and you have yourself the perfect outdoor retreat.
Got a puppy? Transform your balcony into a piece of doggy heaven. For one lucky canine, install a white picket fence, an adorable doghouse, some green turf, and, of course, a couple of planters build the dream small-sized dog park.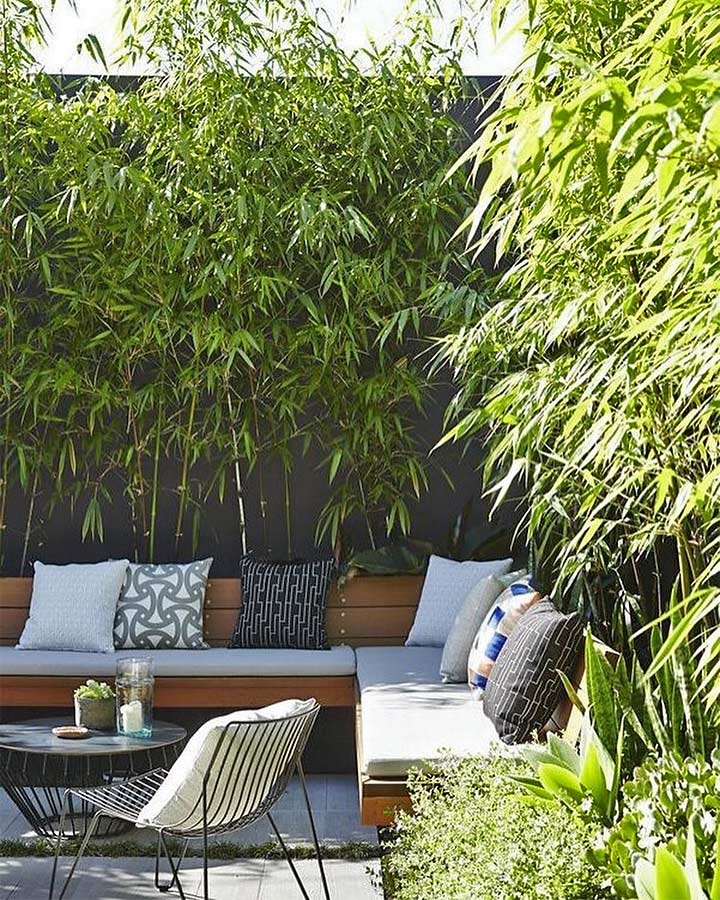 Create a Privacy Screen
It's pretty tough to sit back and relax if you have nosy neighbours or just if your balcony overlooks another house. It is very awkward if you're reading a book and see your neighbours in less than ideal conditions!
Well you don't want to block out your view but you still need privacy right? It is best to install a DIY bamboo fence or some bamboo plants. This will ensure privacy while keeping your view.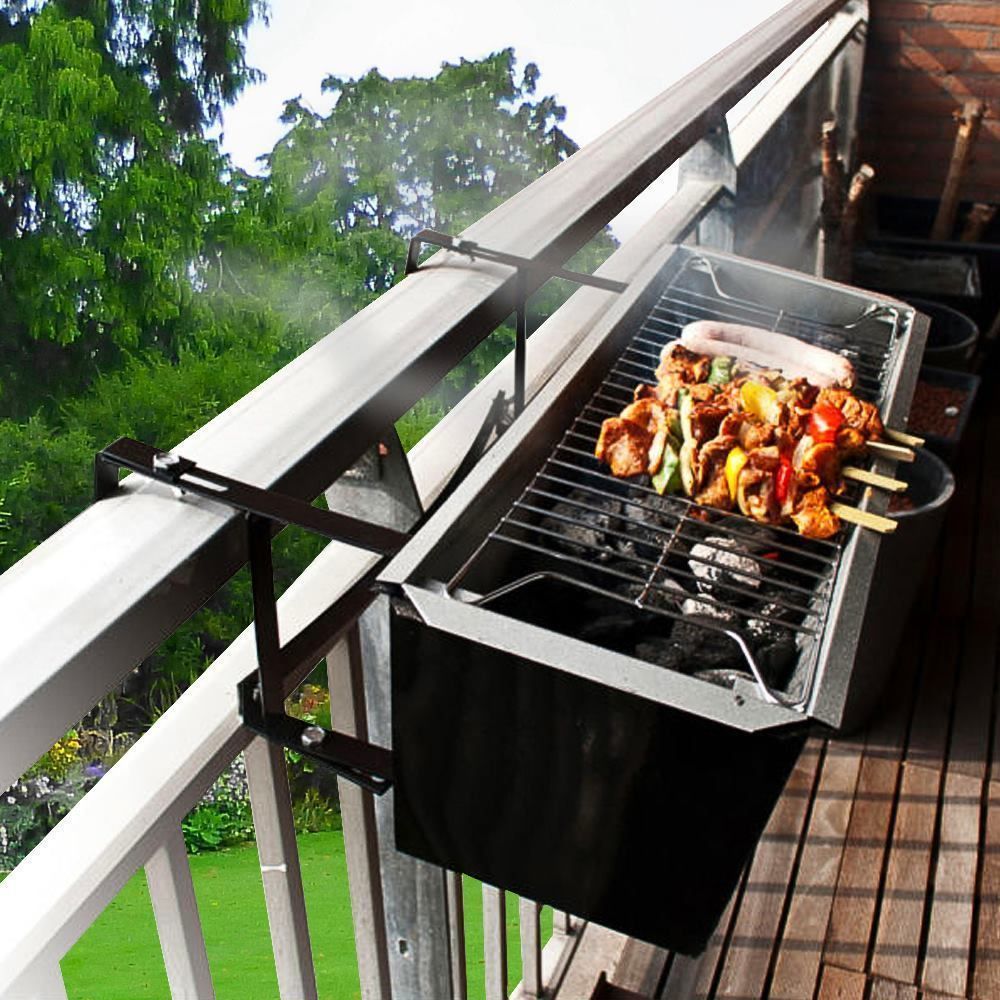 Add a Barbeque
You can always add a barbecue on your balcony no matter how small it may be. Believe it or not, you can find completely affordable options to work on your balcony. You can get a mini foldable barbeque or a bucket barbeque grill. If you can afford to spend a bit more on this accessory you can get a BBQ that hooks over the balcony railings, and will inadvertently save valuable floor space.
To complement your new barbeque you should also invest in some cool crockey to serve food to your friends. A barbie will make your balcony the ideal place to be in winter and great in summer.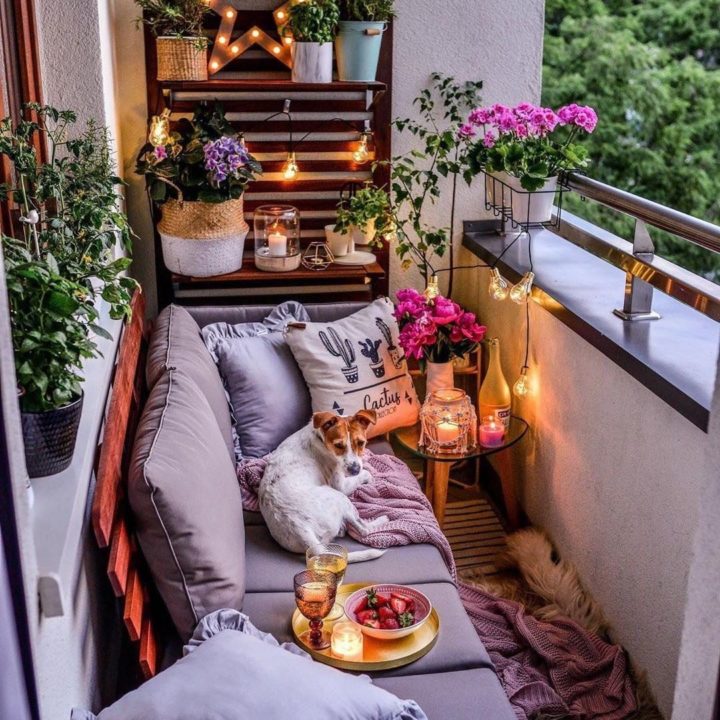 Upcycle
The list would be incomplete without upcycling. What might be considered trash can be turned into treasure. Go to your local op shop or garage sale and look for something that can be creatively repurposed to decorate your balcony area. So many items can be converted into pots for plants once a few holes have been drilled into the bottom. You can also convert old tin cans into pretty balcony lanterns by punching holes and placing candles in them. These are just a few ideas. You can do so much with what you already have. All it takes is a bit of creativity!
If you want to upgrade your existing balcony and want a professional decorator or carpenter to help you with its design, click the button below to get free no obligation quotes from our local trusted professionals at service.com.au today!
Get free quotes in minutes.
Get quotes from our qualified and licensed tradies Australia wide.
Posted under