How much does it cost to paint a concrete driveway? | 2023 cost guide
23rd Feb '23 • By Georgia Budden
Is your driveway looking a little rundown? There are a few guidelines to help you determine the cost to paint and seal a concrete driveway, so you can make the best decision for your home when undertaking this type of maintenance.
This will help make the front of your home look its best, as your driveway often makes the first impression of your house!
Below we've outlined the general costs of concrete driveway sealing in 2023.
Get free quotes in minutes.
Get quotes from our qualified and licensed tradies Australia-wide.
Overview
How much does it cost to paint a concrete driveway?
Benefits of painting your driveway
Concrete driveway painting cost breakdown
Who to hire for your concrete driveway painting?
How to get the best quote for concrete driveway painting?
Concrete driveway painting FAQs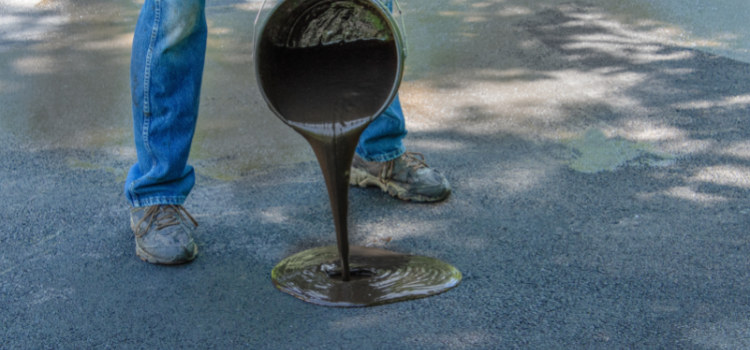 How much does it cost to paint a concrete driveway?
To determine the cost of painting driveway concrete, you'll need to find out the exact material the surface of your driveway is made of. Different types of driveway materials will require different methods to seal the driveway. Asphalt and concrete driveways should be re-sealed every couple of years to increase the lifespan and ensure it's in the best condition. Painting a driveway will cost anywhere from $40 to $180 per square metre, depending on the quality and size of the driveway surface.
The process of determining when your driveway should be sealed is quite difficult because the overall lifetime of asphalt driveways depends on climatic conditions.
There are a number of different sealers that can be used on your driveway, including solvent-based acrylic sealers, water-based acrylic sealers, polyurethane sealers, and epoxy sealers.
Average prices for sealers:
Solvent-based acrylic sealers: 20L for $180
Water-based acrylic sealers: 20L for $149
Polyurethane sealers: 20L for $220
Epoxy sealers: 20L for $220
The concrete sealer spread rate is approximately 80m2 – 100m2 per 20L drum, and two coats are normally required for a proper seal.

Benefits of Resealing Your Driveway
There are a number of reasons why you should reseal your driveway concrete:
To protect your driveway from weather conditions and water exposure
To protect it from oil, grease, and chemicals
To improve its aesthetic appearance, shine, and colour
To make cleaning easier
To prevent stains
By resealing your driveway, you're making a smart investment into the appearance and maintenance of your home, ensuring it's performing and looking its best. Your fresh driveway will be the envy of all your guests and neighbours!
Concrete Driveway Painting Cost Breakdown
As mentioned previously, driveway sealing costs differ depending on where you live. The average cost to paint/seal a driveway increases with respect to weather conditions. As the weather condition demands more care and concern, you will be asked to spend a few extra dollars. Some contractors charge for equipment and driveway treatments separately, meaning this cost will be added on top of their hourly rate. You can expect to pay around $40 an hour for a professional concrete sealer.

Driveway Resealing Step-by-Step
When getting your driveway resealed, you'll need at least two days of dry weather. Check if the driveway has chipped or cracked. If it has, it would be wise to hire a concrete repair professional before you go ahead and paint your driveway. The following is the general process for resealing a driveway:
The driveway is first cleaned with a driveway cleaning product before being sealed to ensure that the coats of sealer can stick to the surface.
The driveway is then rinsed with a high-pressure cleaner or another strong stream of water and then must be left to completely dry.
Oil stains are then treated with an oil stain primer.
The sealer is then applied, with the first coat left to dry usually overnight, then re-applied and left to dry again the next day, with another 48 hours recommended to be left before driving on the freshly sealed driveway.
To avoid unexpected hidden charges, you should talk to the service provider and make sure you both agree on the provided quote. Further, ensure everything important is clearly discussed and included in the quote. It's best to get quotes from several professionals, compare these, and select the most qualified and professional business for the job.
Get free quotes in minutes.
Get quotes from our qualified and licensed tradies Australia-wide.
Concrete Driveway Painting FAQs
Who to hire for your concrete driveway painting?
The best professional to hire for your concrete driveway painting or resealing would be a concrete specialist that is experienced in concrete driveway resurfacing, concrete sealing, concrete polishing, and concrete grinding. Otherwise, many high-pressure cleaners are also specialists in concrete driveway sealing. Using Service.com.au to hire a professional to paint your driveway can save you money in the long run, as the job will be completed professionally with the right expertise.
How to get the best quote for concrete driveway painting?
As we advise on our other cost guides, the best way to secure a good quote is to approach multiple tradies. This will give you a benchmark price for your individual project. Including as much information about your job as possible and getting an on-site inspection first will prevent unexpected costs from occurring further down the track. By getting quotes from several professionals and comparing these, you can select the most qualified and professional business for the job.
Does concrete driveway sealer come in different colours?
Of course! Sealer is available in many different colours to suit the existing scheme of the exterior of your home, such as greys, browns, blacks, and reds. You could even pick a new colour to change up the look of your house and paint your trims to match. They're also available in a variety of finishes, including matte, semi-gloss, and wet-look.
What happens if concrete is not sealed?
Concrete driveways that aren't painted or sealed are more susceptible to staining, cracking, and damage from the elements. This is why it's important to have your concrete driveway painted regularly to avoid headaches in the future.
When should I reseal my driveway?
You may need to reseal your driveway when there is visible wear in the concrete, such as flaking, peeling, or patches on the surface.
What impacts the lifespan of concrete sealer?
The main factors that determine how long your concrete sealer lasts include weather conditions, as well as the type and frequency of traffic on the concrete.
Further Reading
All the costs quoted were sourced at the time this article was written. They are to be used as an AUD cost guide and may vary locally, and are subject to market changes.
Posted under