How to build a garden shed?
22nd Dec '21 • By Shreya Kulkarni
A garden shed can be used to store soil, fertiliser, plant samples and also gardening equipment. If you have a garden, this is a must-have. Building a garden shed can seem difficult, but a gardener can easily help you with everything you might need. Find out more
If you have a garden, a garden shed is a great addition that can help you stay organized. It will rapidly become a storage area for unused potting soil, plant pots, and other items. It also provides safe and dry storage space for garden power equipment like lawnmowers and hedge trimmers, as well as manual tools like spades and rakes, keeping them protected from cold, moisture, and dirt so they can continue to function properly. Having a garden shed is another way to add value to your property. But before you can proceed to your garden shed, you might want to know how much does a gardener cost? This is an essential question because you will definitely need assistance setting up your garden for your garden shed.
Building your garden shed may appear to be a daunting task, but it only requires a little skill and expertise. You'll need to set aside some time to prepare, but don't worry; our step-by-step instructions will walk you through the entire process, from planning to completion. This upgrade to your home will be your biggest flex as you maintain your garden. Here are the things you need to consider before you start to build a garden shed. Though it seems to be a minor step in gardening, a garden shed is a great way to garden on a budget.

Things To Consider Before Building A Garden Shed
Follow Restrictions
Erecting on private property is subject to restrictions, and building a wooden shed may require planning permission in some cases. Because there are a few nuances to planning rules specific to your scenario, you should review the current construction standards provided by your local council before constructing your garden shed.
Being Nice
To prevent causing a dispute with your next-door neighbours, you should discuss your construction plans with them ahead of time. This positive manner allows you to verify that your garden shed will not interfere with other property boundaries or obstruct anyone's view. In this way, you can secure your garden and the areas and boundaries you need to achieve such an upgrade in your home.
Prepare Early
This isn't something you'll be able to knock down in a single day's work. This project is best completed over three or four days, making it ideal for a long weekend or the holidays. Choose a spot where wheelbarrows and large pieces of equipment can readily be accessed. Choose a location that isn't prone to getting damp and muddy and has good irrigation. We also advocate construction on a flat ground; while a shed can be built on a modest slope, levelling the floor takes more time and effort.
You can ask for multiple gardener quotes to know the approximate cost of preparing your garden before you venture into building your garden shed.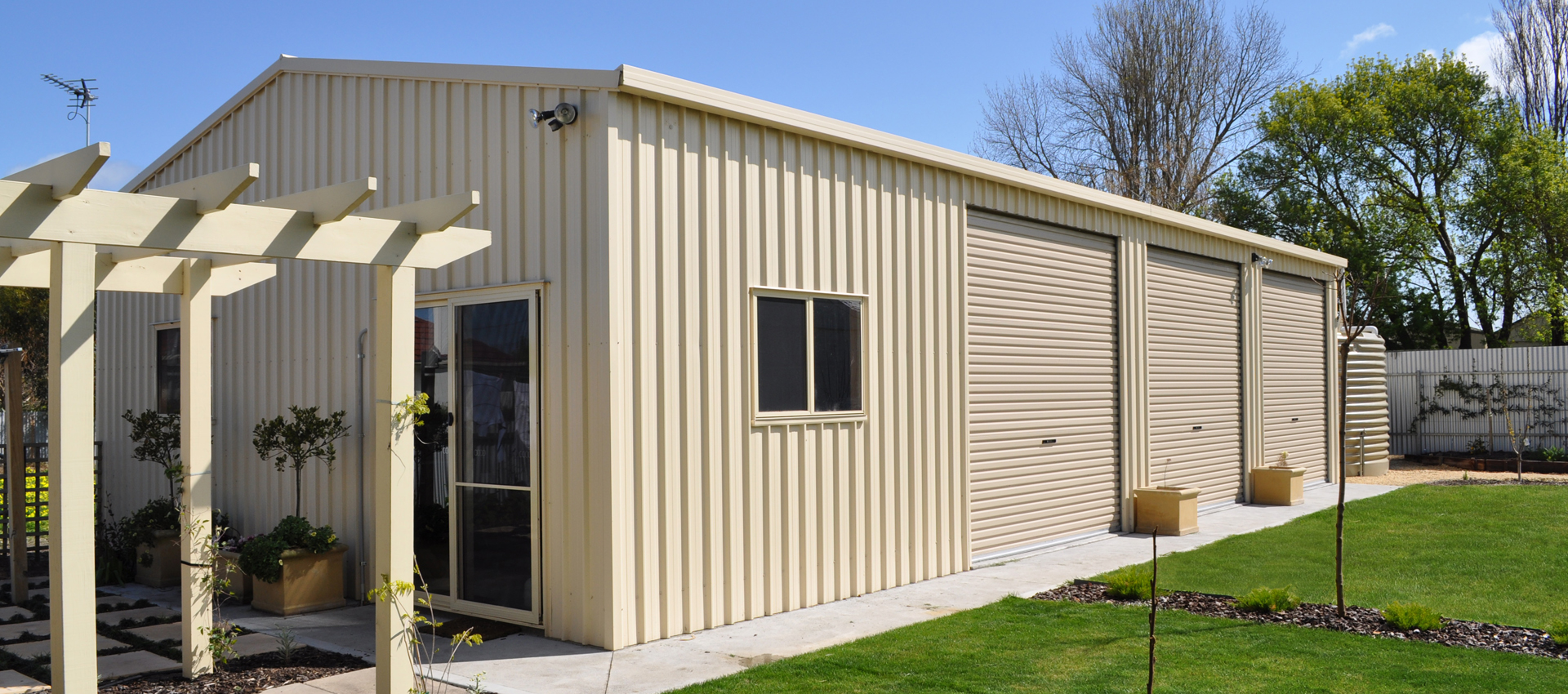 Steps In Building A Garden Shed
Step 1: Prepare the area
Mark the ground with stakes to indicate the shape of your garden shed. Remove any stones and weeds from the interior of the area, and use a spirit level to see if the ground is level or needs to be levelled. An experienced gardener can help you do the necessary preparation in your landscape area before building your garden shed.
Step 2: Build The Foundations
Soil can shift when exposed to cold, rain, or heavy loads, and this movement could cause your DIY shed to distort over time. A firm foundation will assist in preventing this and will ensure that your garden shed will last for many years. It also means creating a gap between the wood and the soil, ensuring that the shed is protected from frost and water runoff. Building a solid concrete foundation and using blocks are two options for laying a foundation for a garden shed.
Step 3: Install The Floor
Over the base of your garden shed, you may now build a floor. Cut the floorboards to length with your chainsaw, then secure them to a workbench for cutting.
The tongue of the first board should face into the shed, and it should rest over three perpendicular joists. Secure it to the joists with screws. Then, if you can't obtain a good fit with the groove of the second board on the tongue of the first, knock it into place with a scrap piece of wood, being careful not to break the tongue. Continue laying the floor in the same manner after screwing the board in place. Remove the overhang from the final board's tongue.
Step 4: Arrange The Walls
It's easier to completely pre-assemble each wall before putting it on the garden shed foundation. We recommend doing this on a flat, level surface, though the base you just made would suffice. To work on, you may also stack 4 or 5 trestles together.
Step 5: Build The Roof
After you've finished constructing the walls, install one and use bracing to level it. Then go to the next wall, complete all four walls before constructing the roof.
The roof may be the most difficult element of the job, and you may require assistance. A skillion roof is less difficult to construct than a gabled roof, but you will need to angle the shed walls to accommodate the roof. A gabled roof is more difficult to construct, but it's simply a matter of getting the angle correct and using the proper materials. A gabled roof may require assistance since each roof component must be held in place as it is erected.
Step 6: Polished Finish
You'll have a shed skeleton after erecting the walls and roofing trusses, and the next stage is to finish building the shed. Most of the labour will be done if you build an aluminium kit shed, but if you're building a timber shed, you'll still have to clad it, install the windows and door or doors. Installing the roof before cladding the shed is a good idea because you never know when it will rain, and a roof will assist keep the interior dry.
Get free quotes in minutes.
Get quotes from our qualified and licensed tradies Australia wide.
Posted under