With setting up the newest addition to your backyard, not only tasting amazing and a great way to practice sustainability, but growing your very own vegetable garden has many health benefits. It allows you the opportunity to reduce the amount of pesticides in your garden, creating a healthier, and thriving garden.
Saving you the time and money of running to the grocery store with the tired kids after school. On top of that, being ten times healthier and higher in nutrients than the veggies that travelled to get to your local grocery store.
Not to mention, increasing your physical activity, leading to better health overall. And the good part is, you don't have to be the Casanova of gardening to create a beautiful, flourishing garden!

Preparation​

 
First and foremost, choose a spot that receives a lot of sun and isn't covered by tree or hedges and shade. 
Test your soil to find out what nutrients it needs. Your local Bunnings store will sell do-it-yourself kits, for you to do this.

FYI for your DIY

Before planting any vegetables, begin your garden bed by digging the land over, using your spade, and adding some organic compost. You can either use pre-purchased compost such as manure, or you can go ahead and make your own in your backyard, using kitchen scraps.
This is also called, amending your soil. Spread the compost evenly. Do this at least one to two weeks prior to starting your planting process.
Helpful tip: If you find yourself living in an area which is suffering through droughts most of the year, then you may want to consider placing peat moss, over the compost. Peat moss basically helps your garden hold water throughout the dry seasons. After adding peat moss, gently mix and break up any clumps.
A good amount of soil for your vegetables, is generally around 15-20 centimetres in depth, helping their roots to grow. So, if you're planning on planting edibles with a deeper rooting system like carrots or potatoes, it's important to dig and compost deeper into the soil. Roughly around 30 centimetres should do just the trick.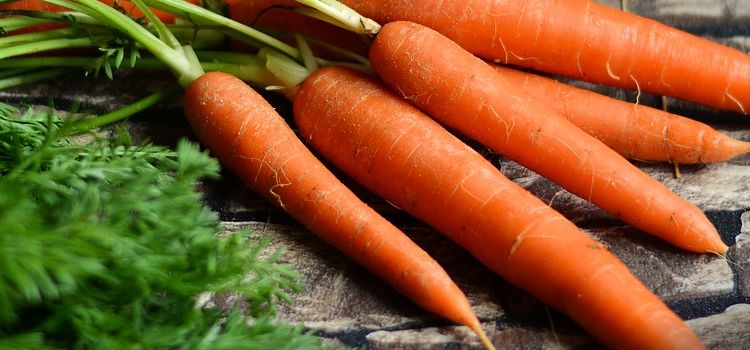 Next is watering the compost. Make sure your compost is fully broken down before deciding to plant your vegetables. As mentioned earlier, this can be managed by waiting about one to two weeks after putting your garden bed ready to plant.
Ideally, you want to get the most out of your vegetable garden. So, make sure to purchase vegetables that you will use and plant them at the right time of year. Becoming knowledgeable in this area wouldn't hurt. Don't be shy to ask your local Bunnings store garden expert, or going onto the internet and watching DIY videos and starting conversations with fellow gardeners on ask forums.
Next, gently remove your chosen vegetable's plant from its container and separate each plant. Dig a hole deep enough with a garden trowel tool, and repeat this process, in rows for the other vegetable plants in the garden bed.
Helpful tip: While vegetables are growing, regular fertilisation is key. Your vegetable's may deal with shock after being transplanted, so to help with this, water down a seaweed concentrate, approximately two cup fulls in 10 litres of water, and pop it in a watering can. Soak your vegetables in this mixture.
When it comes to garden care, mulch is an important step of the process. Helping your plants to grow in many ways. Keeping their roots cool during those hot and sweaty summer days, and stops pesky weeds from disturbing your garden.

Apply the mulch around your vegetable plants, make sure to not let water touch the mulch, as it can cause the plants to rot. Place the mulch around your vegetables, but not letting it touch them. 
Giving your vegetables a great start in life, is the key to a great garden. You can start by simply watering your plants every day for the first few days. After those first crucial days, start reducing the amount of the water you give, as they look for water, they root and grow deeper into the soil, helping the plant grow.

Keepin' it cool

Too much sun and overly hot temperatures, are every garden's worst nightmare. Just like us, your plants and vegetables can become sunburned, affecting the plant tissue and having yellow splotches on the leaves and fruit. Obviously, the vegetables can't just slap on some Aloe Vera and wear sunnies and a hat, so the best way to avoid the horrid heat this summer, is through these simple tips.
Be mindful of soil texture, nutrients, mulch and water.  When it comes to choosing the right soil, it's important to have as much natural substances as possible.
If you are unsure as to what you can use, compost is a great example. By using natural ingredients', the compost then acts like a sponge, and soaks up all of the additional water after heavy rainfall, or flooding, releasing the water back to the plants.
Regular uses of natural fertilisers are the base of keeping your garden heat protected over the hot days that are upon us.  This can be retrieved from manure, vegetable substances, and other forms of waste.
Keeping your soil cooler and reducing soil temperatures throughout hot weather, would be through mulch. An important step to reducing temperatures to as low as minus three degrees Celsius.  Just a few inches of mulch should do the trick to create a heat free zone for your flourishing garden.
Lastly, water! It seems like the easiest part of keeping your garden thriving and not letting it become bone dry, or overly moist. Many people assume that regular minimal watering is the way to go, and drenching your garden occasionally, is bad.

However, it is the other way around. Minimal watering gets the roots of the garden to grow in the area that is exposed to drying out quickly. Maintain irregular soaks this summer to avoid your garden drying out, and remaining beautiful and lush.  
Are you needing help with your newest addition to your family garden? Look no further. Click the link below to see all Gardeners in your area. 
Happy gardening!