5 steps to design a modern coastal kitchen
5th Apr '23 • By Georgia Budden
Modern coastal interiors are becoming an increasingly popular choice for new builds and kitchen renovations.
This appealing aesthetic blends together the relaxed atmosphere of coastal living with contemporary design elements.
Achieving a modern coastal kitchen is surprisingly easy and incredibly rewarding — all it takes is a thoughtful selection of colours, materials, and fixtures!
Get free quotes in minutes.
Get quotes from our qualified and licensed tradies Australia-wide.
Overview
Choosing a colour scheme
Designing the layout
Selecting your materials
Choosing the right lighting
Adding accents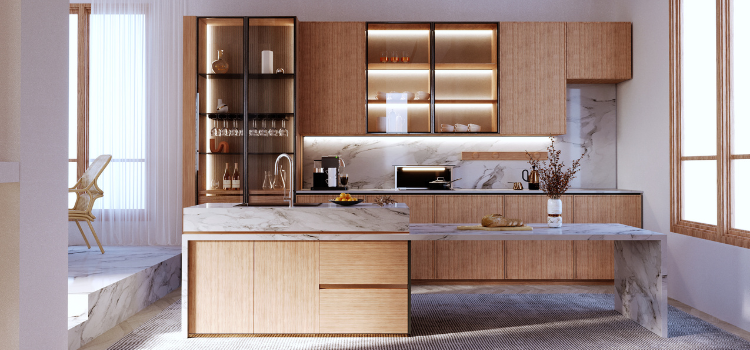 1. Choosing a Colour Scheme
The right colour scheme is crucial for creating this inviting style. While more traditional coastal interiors have been inspired by the ocean with vibrant shades of blue and green, the contemporary spin calls for a different approach.
This aesthetic is intended to be timeless, so embraces muted iterations of these colours — for example sage green or pastel blue — alongside neutral shades like white, beige, and cream.
Consider painting your walls white or beige, and install crisp white or timber cabinets to create a fresh and airy look. For the countertops, choose a natural stone or quartz with a soft, subtle pattern that complements the colour scheme.
2. Designing the Layout
A functional layout is essential for any kitchen, and is especially the case for a modern coastal design. This style is undeniably welcoming, therefore including an island bench will give you additional counter space and a place to gather with family and friends.
Open shelving is also an ideal design option, as it allows you to display your favorite dishes and accessories while keeping the space feeling open and light. You can even take advantage of these shelves as extra space to hold your indoor plants.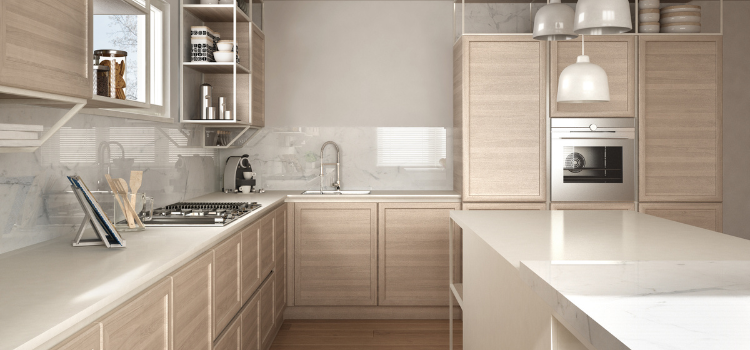 3. Selecting Your Materials
Modern coastal kitchens focus on warm features and natural materials that complement each other effortlessly. There are many opportunities around the room to bring balance to your overall design.
The casual texture of rattan chairs pairs wonderfully with the sophisticated sheen of brushed brass tapware and cabinetry hardware. Also try to focus on organic shapes, such as arches and curves as a gentle yet contemporary touch.
4. Choosing the Right Lighting
The lighting in your kitchen will set the mood of the space, and can also be used as a focal point. This is why woven pendant lights are a popular choice for this style, as they provide ambient lighting and can be used to highlight specific areas, such as the island or the sink.
Warm LED globes are a fantastic choice for a comfortable ambience, as well as thoughtfully-placed floor lamps. Be sure to layer your lighting, combining ambient, task, and accent lighting for maximum impact.

5. Adding Accents
The finishing touches will tie together your contemporary coastal kitchen. Add a textured white vase with some simple greenery, such as eucalyptus to add natural life to the room. Pair this with a timber or ceramic pedestal fruit bowl as another point of interest on the benchtops. Be sure to choose accents that complement the overall design of your kitchen and don't overwhelm the space.
As you can see, adopting a modern coastal design in your home is underpinned by fresh, welcoming, and effortless features. Whether you can make major structural changes during a kitchen renovation or new build, or you simply want to switch up your decor on a budget, there are a number of ways to incorporate little elements of this style throughout your space.
For more advice and inspiration, get in touch with a kitchen renovation expert or qualified builder today.
Get free quotes in minutes.
Get quotes from our qualified and licensed tradies Australia-wide.
Further Reading
Posted under