How much does it cost to paint a pool? | 2023 cost guide
19th Feb '23 • By Jared Jeffery
With many locations in Australia embracing warm weather all year round, it's always a good time to enliven your outdoor space by freshly painting your pool. Each swimming pool is different and, as such, requires different paint products.
We highly recommend enlisting the help of a pool painting professional for a task like this; however, some people may also attempt to DIY. So, here's what you need to know about painting your swimming pool.
Get free quotes in minutes.
Get quotes from our qualified and licensed tradies Australia-wide.
Overview
Swimming pool paint products to choose from
Cost to hire a pool painter
What can increase the cost of painting your pool?
Should I hire a professional painter?
Can I paint a pool myself?
Pool painting FAQs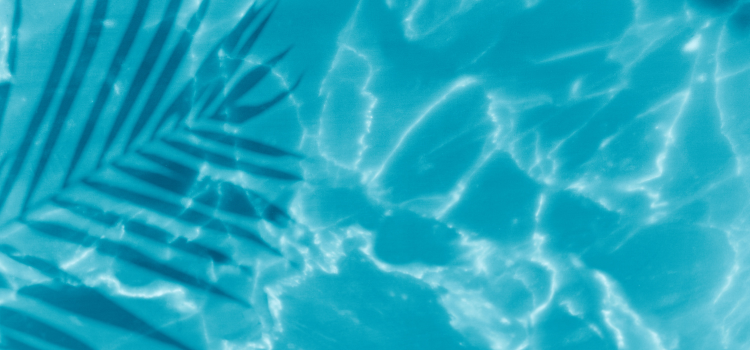 Swimming Pool Paint Products to Choose From
First and foremost, choosing the right type of paint for your swimming pool is important, as each pool is different. The three primary types of paint used in pools are epoxy, acrylic, and chlorinated rubber.
Epoxy Swimming Pool Paint
Epoxy swimming pool paint offers the longest lifespan, approximately 6 to 8 years. It is the thickest pool paint product, best for smoothing rough surfaces, filling in hairline cracks and any small pots that may arise. It also is the only paint suited for fibreglass pools, saltwater pools, and spas.
There is a range of colours to choose from, and minimal maintenance is required, making it a popular option with many homeowners. However, epoxy requires a lot more work when mixing/preparing the paint, and curing can take up to 7 days. As such, the price is typically higher than other paint products available.
Acrylic Swimming Pool Paint
Acrylic paint products are one-part water-based, meaning they are extremely easy to mix and apply. It has the shortest curing time of all the paints at three days, and the lowest price. Suitable for locations high in humidity or rain, as the paint can be applied to a damp surface without fuss. It can be applied over any pre-existing paint on your pool, with a range of colour choices.
Acrylic paint does have the shortest life span of all the pool painting products at 2–3 years, and it does not resolve rough surfaces very well. Acrylic paint is not suitable for fibreglass pools, saltwater pools, or spas.
Chlorinated Rubber Pool Paint
Chlorinated rubber pool paint was once the preferred choice when painting a pool, as with one-part paint, there is no mixing involved. The price is less than epoxy but more than acrylic, and would fit well within a medium budget. Most suitable for those seeking an easy application process and who have preexisting rubber paint on their pool.
The downside with this product is that pool surfaces must be fully dried before painting, curing takes up to 7 days, and there are heavy fumes. Acrylic paint is not suitable for fibreglass pools, saltwater pools or spas.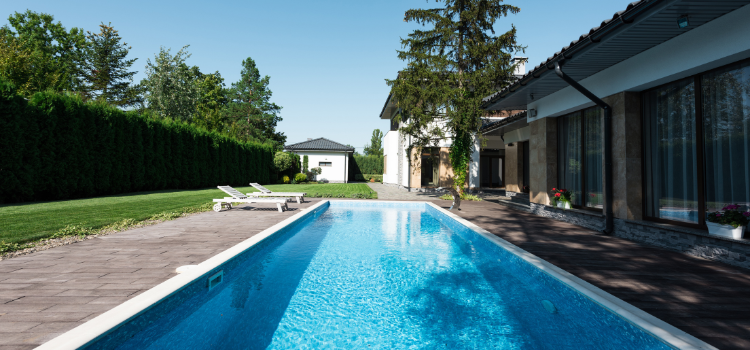 Cost to Hire a Pool Painter
The national average cost to paint a pool ranges anywhere from $480 to $650, depending on the size of your pool area and materials needed. For example, a cement pool that is around 20–25 square metres may cost $270 for a two-pack epoxy paint and primer or $110 for rubber paint. The price of painting is one of the factors to consider when building a swimming pool.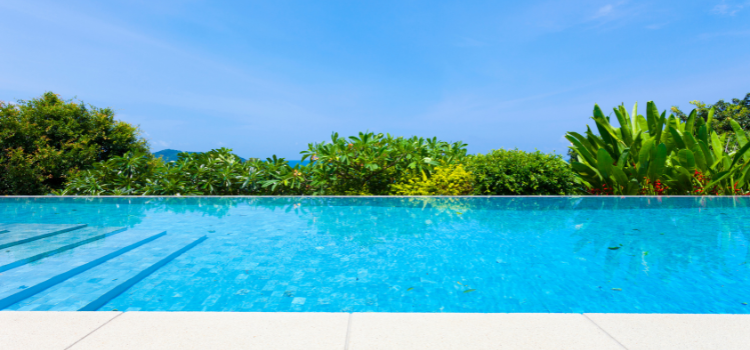 What can increase the cost of painting your pool?
As with any kind of home improvement project, there are variables that may increase the price.
Including:
Using multiple colours or bright colours (expect to pay less for a plain colour)
Having moisture in your subsoil (requires more preparation)
Needing pool repairs prior to painting (such as adding primer to concrete)
Painting surrounding pool areas (you may request to have a poolside fountain painted)
It is worth noting that professional pool painters can also paint pool coping, a shower room, and the surroundings of the pool area if requested. We recommend covering all the mentioned variables when discussing quotes with a prospective professional. Otherwise, they may come up as unexpected costs during the project.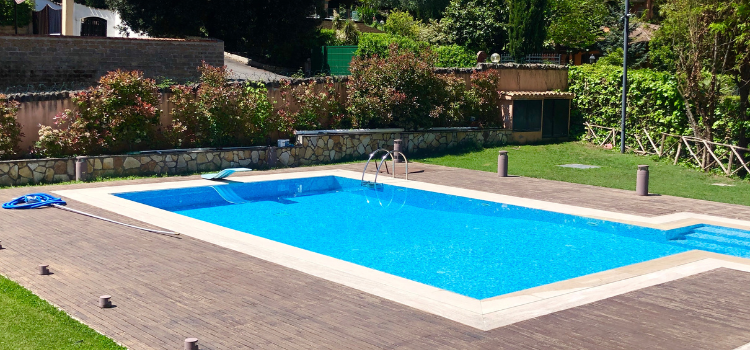 Should I hire a professional painter?
We highly recommend this. Painting a swimming pool is a big job that you can't exactly chip away at each time you have a spare weekend. It is extremely time-consuming and requires a dedicated period of time for paint mixing, application, curing and so on. Professional painters' service costs may vary, so we suggest geting multiple quotes to gauge the typical price range. If you want the security of knowing your job will be carried out at a high standard, then we definitely encourage hiring a professional pool painter.
Can I paint a pool myself?
As mentioned, while it is a big job, it can be done if you have ample time and the skills. Here are the general steps you'll need to follow:
Work out the square metre area of your pool and order suitable paint.
Drain the pool and let it completely dry.
Prepare the pool's surface by filling any cracks or smoothing out rough surfaces.
If your pool is concrete, you will need to cure it first.
Get free quotes in minutes.
Get quotes from our qualified and licensed tradies Australia-wide.

Pool painting FAQs
How do you choose the right pool painter?
A good pool painter will provide you with an honest quote in line with industry standards, which you should get an estimate of by doing your research. They will have a reputable portfolio, including references, examples of past work, and customer reviews. We recommend choosing the tradesman with the most reputable experience who answers all your questions honestly. Scroll through professional pool painter options on Service.com.au.
How long does it take to paint a pool?
The average time period necessary to paint a pool is 3–7 days (including curing), depending on the paint product you choose. It may take longer for DIY painters, as a professional's experience usually allows them to carry out the task quicker.
When is the best time of year to paint a pool?
Typically any time of year is suitable in the warm Australian climate; however, avoid painting during the rainy season if possible. You will need five fine days of weather in a row to carry out the task successfully.
How to prepare your pool surface for painting?
Properly preparing your pool surface for painting is a crucial step in the whole process. If you are hiring a professional, preparation of the pool will be included.
How long does chlorinated rubber pool paint last?
Chlorinated rubber pool paint, once applied, can last from 2–8 years. At the end of this period, you will need to repaint your pool.
How do you find out what kind of paint your pool has previously been painted with?
To work out what your pool was previously painted with, you should:
Clean a dry patch on the pool's surface.
Use an acetone-soaked rag.
Rub onto the painted surface for 30 seconds.
Touch the rag, noting whether it's sticky or not. If the surface is sticky, it is a chlorinated rubber coating.
Further Reading
All the costs quoted were sourced at the time this article was written. They are to be used as an AUD cost guide and may vary locally, and are subject to market changes.
Posted under