Towel storage ideas

 
When not organised properly, towels can become a messy, space-consuming feature of your bathroom. Whether you have more towels than towel racks already built in, or you just want some brilliant new bathroom storage ideas, there are several options you have for finding the perfect, neat spot for your towels.
Wine lovers rejoice - not only are wine racks the perfect place to store your favourite beverage, they also make fantastic bathroom storage for towels! Creating a wine holder is also a practical and thoughtful DIY gift for Mum.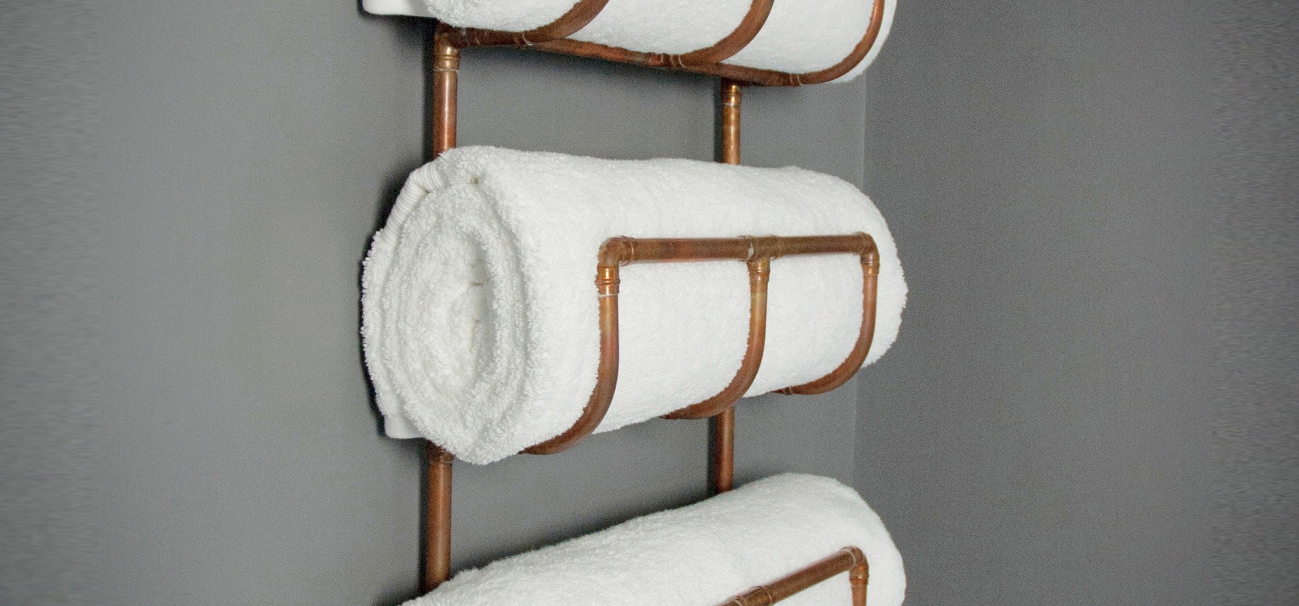 If you're into the vintage or rustic look, stick with this decorating style by attaching vintage door knobs either directly onto the wall, or onto a wooden panel to mount to the wall to hang your towels. This is one of the best bathroom storage solutions for homeowners who don't like the appearance of towels draped over a rack, with the benefit of being one of the best rustic bathroom ideas.
If you have a small bathroom with limited wall space, you can instead attach hooks or towel racks on the back of your door, which will also be conveniently hidden out of sight when the bathroom door is open, for those who prefer the trend of minimalism.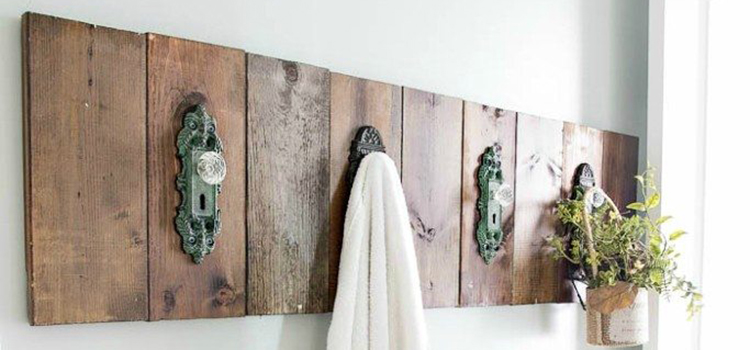 Shower product organisation

 
If you're anything like myself, there's a good chance your shower is currently filled with 100 different products (some necessary, some not so much...) that are cluttering either the shower floor or the edges of the tub. Not only is this a slip hazard, but it quickly turns a tidy looking bathroom into one that looks messy and disorganised, especially if your bathroom isn't large to begin with. Fortunately, we've got a few solutions! In addition to a bathroom storage caddy, you can utilise hanging space in the shower by attaching a second shower rod, from which you can hang hooks with small clips to attach to your shampoo, loofah and other toiletries.
You can also hang baskets or even a shoe organiser from these hooks to even more efficiently organise and store your toiletries.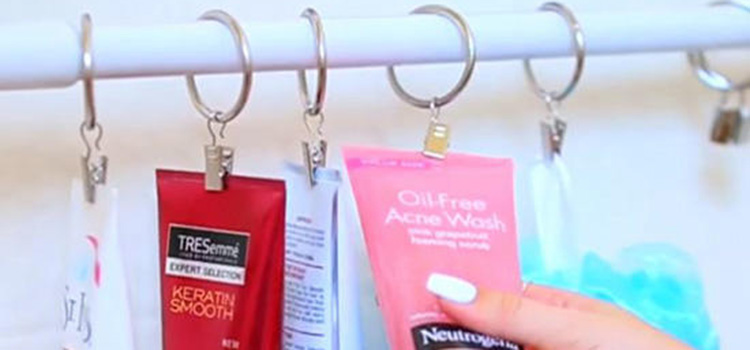 Under sink and vanity storage

 
One of the best bathroom storage ideas is the make the most of the spaces you already have, with countless opportunities under your sink or bathroom vanity being available to you. If you have a pedestal sink, you may be wondering how you can possibly use this space to help organise your bathroom. Don't fear, there's even a solution for you! You can easily install a small curtain under the edges of the sink (even to match the rest of your decor, win win!), and place storage baskets underneath the sink which will now be perfectly hidden from sight with the curtain. 
If the back of your bathroom cabinet is magnetic, this is the perfect opportunity to organise all of your small metal tools, such as bobby pins and tweezers by sticking them to the back.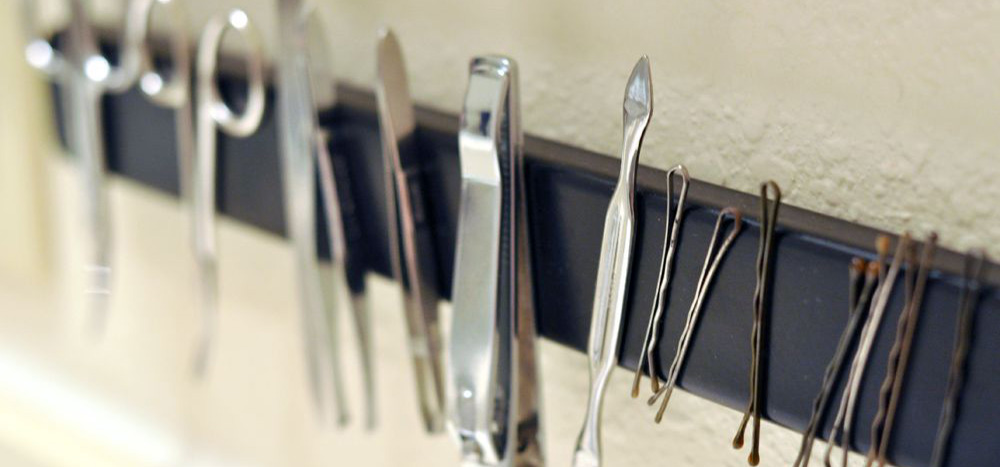 You can even utilise the back of the cabinet doors for storage, by attaching plastic organisers to sort all of your little items such as cotton balls and buds. Empty candle jars are also an effective and attractive idea for storing these, and are the perfect way to reuse rather than dispose of the jars, which is an easy eco-friendly home hack.
Let's face it, reaching all of your products under the sink can be a big pain in the butt, and trying not to knock over every bottle or tube is like navigating through a minefield! Placing all of your products on a two-tiered Lazy Susan is the ultimate bathroom hack, and guaranteed to save you loads of frustration and swearing.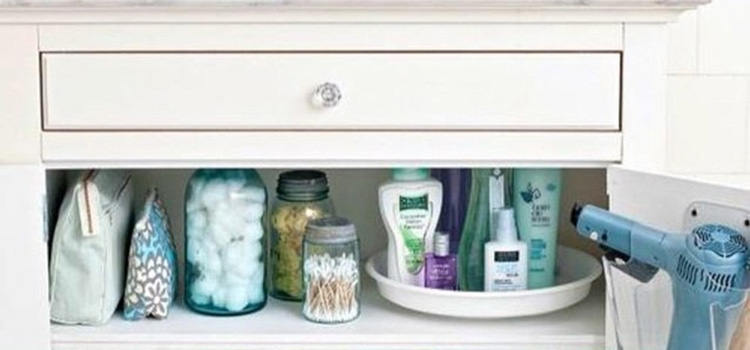 Around the outside of the vanity can also be optimised for functionality, by installing a picture ledge above the sink to hold your bits and pieces, and also attaching hooks to the side of your cabinet to mount a basket, which is perfect for keeping your electrical appliances organised.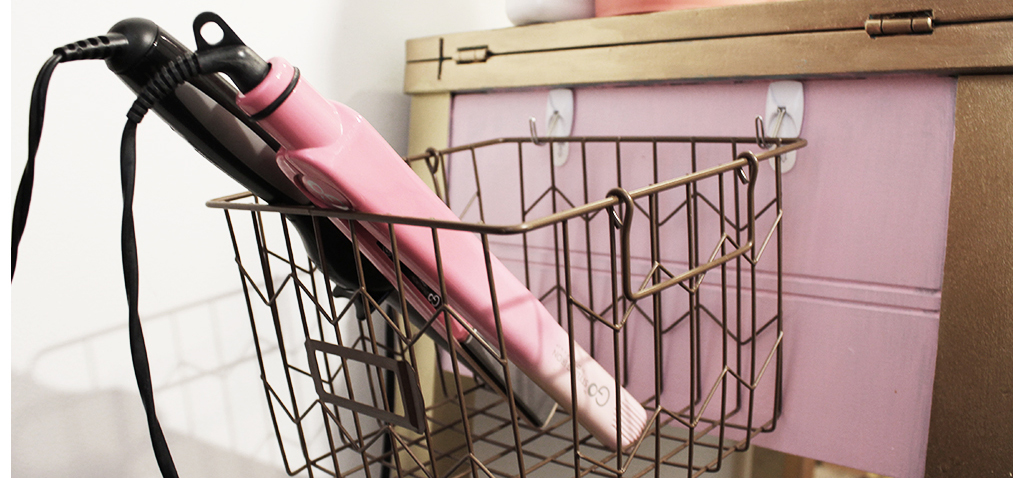 Bathroom wall storage

 
Your walls should also be taken advantage of for their bathroom storage potential. Adding a leaning ladder shelf against your bathroom wall is not only the perfect way to store your towels, plants and bathroom products, but a wonderful way to up your bathroom decor game! Leaning ladder shelves are super versatile, as they can be leaned up against an empty wall or above your dirty laundry hamper, and are one of our go-to over the toilet storage ideas, if you're really short on space.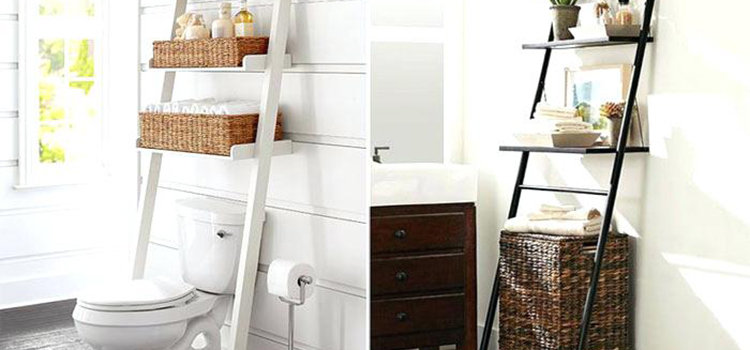 If you store your jewellery in your bathroom, you can keep it all tidy and beautifully displayed in a DIY jewellery picture frame, which can be easily made by repurposing an old vintage photo frame and adding a sheet of chicken wire on the inside to hang earrings and other jewellery.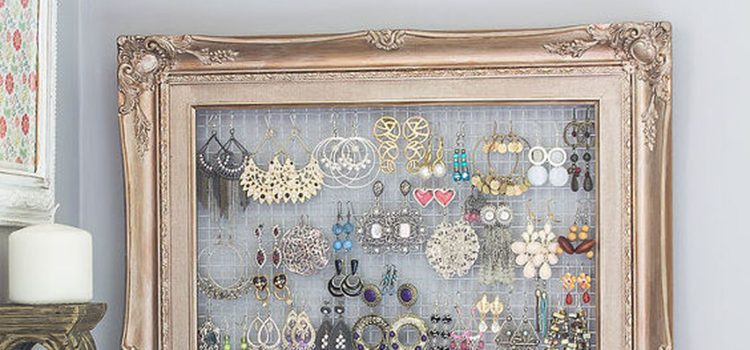 Adding extra towel racks or rods to your bathroom walls is not only an obvious solution if you have more towels than space to hang them, but is also a versatile options for storing your other products in bathroom storage baskets that you can hang over the racks. 
These bathroom storage tips will help you keep your bathroom looking organised and tidy 'round the clock - with so many options for bathroom storage units, the possibilities are endless!
 Find Local Bathroom Renovation Professionals 
Further reading:
How to live a more sustainable lifestyle
How much does a bathroom renovation cost? | 2019 cost guide
Budget friendly renovation secrets
Make the most of your office space