How much does excavation cost? | 2020 cost guide
13th Jul '20 • By Shreya Kulkarni
If you're considering excavating your property or work site in 2020, here is a guide to help you determine the cost of excavation.
Excavation is one of the first and most important physical steps in the construction process. There are certain things to consider before building your own home. For instance, the construction area must be prepared, which includes moving soil, leveling and grading. Excavation can be used for building swimming pools and removing unwanted trees. Whether you're looking to hire a professional for your project or planning to hire an excavator, this guide will give you a quick look at what excavation costs may be expected in 2020.
How much does excavation cost?
Excavation and earthmoving services cost $90/hr on average. This can still change depending on things like the size of the area to be excavated and the difficulty of access. In general, excavation and earthmoving rates range from $80/hr to $100+/hr. To provide you with an accurate quote for a land excavation cost, your excavation professional is best to visit the site to get an understanding of the scope of the work to be done. To determine a basic cost of excavation for foundation, most professionals will charge per yard of dirt which usually equates to $100.

Why hire a professional with excavation experience
As Red Adair once said 'If you think it's expensive to hire a professional, wait until you hire an amateur.' The work that goes within excavation is quite dangerous and requires full qualifications for the work being done.
According to the Queensland Government's Workplace Health and Safety Electrical Safety Office Workers' Compensation Regulator, specific requirements must be met in order to begin the excavation, as outlined in the Work Health and Safety Regulation 2011.
Depending on the nature of the work, council permission and approval processes required for your construction project by law. This ensures that all work carried out is done so sensitively and abides by the state's health and safety regulations, to ensure that workers and the general public are not at any risk while the excavation work is being carried out.
Get free quotes in minutes.
Get quotes from our qualified and licensed tradies Australia wide.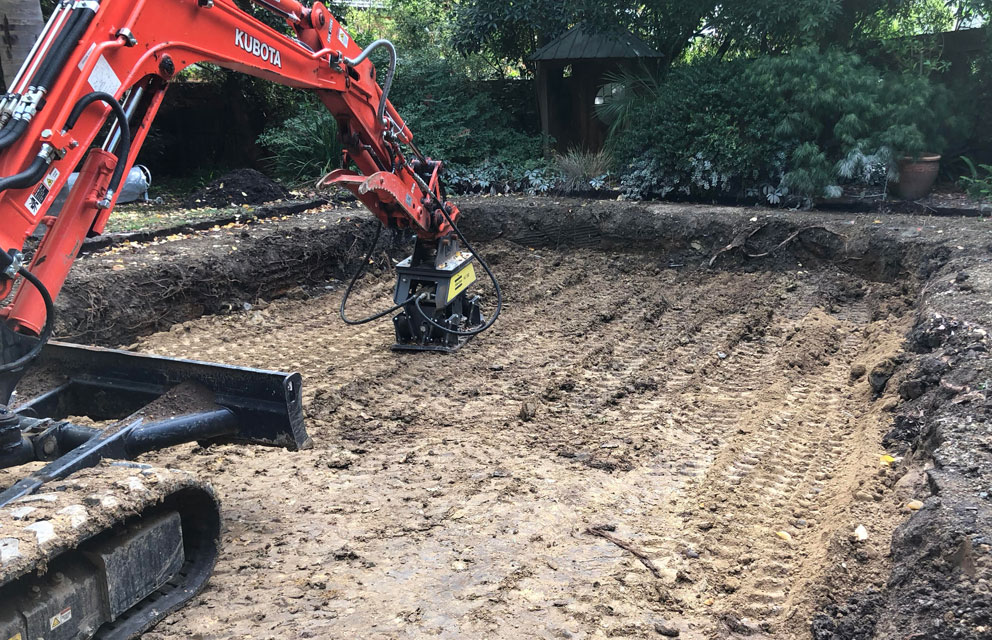 Cost of hiring a professional
Based on quotes posted on Service.com.au, you can expect to pay between $400 to $1500 for the excavation of a property. The size and complexity of your job will determine the final cost. You can expect to pay anywhere to $150/hour for the combined service of an excavator and tip truck and around $90/hour for a bobcat or two-tonne excavator. Excavation is often required if you are planning on adding some landscaping to your property, installing a pool, building on a sloping block or renovating your home.
Excavation rates can be greatly affected by several factors :
Size of block
Type of gravel, soil and rocks
Trees to be removed
Whether grading is required (leveling of ground)
Access to the area
Machine/s required
Excavation and Grading
When it comes to site preparation, excavation contractors not only focus on removing the unwanted materials and dirt. Contractors smooth out the landscape by grading the soil to help make the site more efficient. The act of grading reduces water problems that may arise once construction is completed in the future.
Often mistaken for the same thing, excavation and grading are two separate jobs in the construction process. While excavation removes earthly objects and materials from the ground, grading creates an even and well levelled base for the construction site, smoothing the soil base.
Grading Costs
The pricing is determined by the amount of soil there is to be removed for the grading project. Ranging from $25-$100 or $200-$1,000 depending on the size of the project.
Why grading?
Builders will generally aim to create a grade sloping away from the building as mentioned previously, to attempt to prevent water flowing towards the building's foundations.
Machine Hire
Both grading and excavation must be done through the use heavy earth moving machinery.
Hiring an excavator cost
Hiring an excavator can cost as little as $50 an hour for a basic machine. However, costs can increase upwards of $150 an hour depending on the machine's size and any additions you may need. Before you hire an excavator, make sure you check costs like minimum day rates, public holiday charges and travel costs to get a comprehensive idea of an excavation cost.

Common risks to avoid during excavation work
major falls into trenches and/or excavations
large excavated materials or objects falling and injuring workers
individuals exposed to underground or overhead electrical cables
the collapse of an excavation trapping an individual
exposure to airborne contaminants
Professionals are trained in hazardous scenarios, and are well equipped to handle these with the most appropriate and effective actions. To an unqualified worker, these hazards can risk serious injury or worse. Therefore, it is important to make sure you play it safe and hire a professional service provider to carry out your excavation work.
We provide thousands of Service.com.au users with various businesses everyday, ranging from interior design to construction. If you're needing help with your next big home design project, click the link below to receive multiple quotes from professional service providers.
Get free quotes in minutes.
Get quotes from our qualified and licensed tradies Australia wide.
Posted under