When it comes to your home's landscape aesthetics and value, garden paths are a great addition to any tidy and pretty garden. There are numerous ways in which you can design your garden path, although the number of materials are limited. These include stone, wood, brick or concrete paths. However, a combination of materials and other accessories can bring to life a creative type of path that will make your garden unique. 
Bones and purple stones landscape design
Situated in Portland, Oregon, this beautiful garden path's uniqueness can be seen in its shape and form. Beautiful bones and purple stones offer an idyllic design if you are looking for a desert-like ambience for your landscaped areas.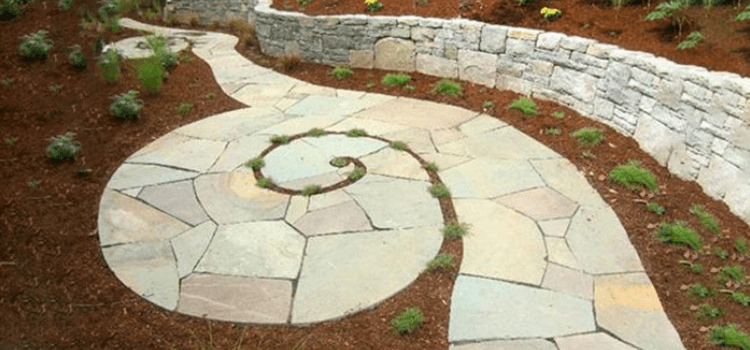 Stone garden path
Small hills and slopes shouldn't stop you from building a beautiful garden path. That's what a homeowner at Linville, North Carolina, thought when he decided to build his wonderful garden path. His stones came in different shapes, sizes, and colours. It's obvious that the owner knew how to take advantage of this material by creating a unique and rustic garden path.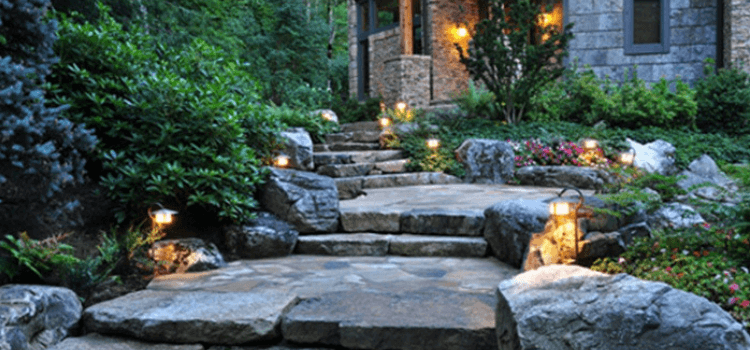 Rugged path for a californian look
Designed by Jeffrey Gordon Smith, this beautiful garden path can be found in the city of Los Osos, California. Its ageless dry-climate look and design seem to be taken out from an all-American cowboy movie. The beauty here is that it requires little or no maintenance and will thrive in all weather conditions.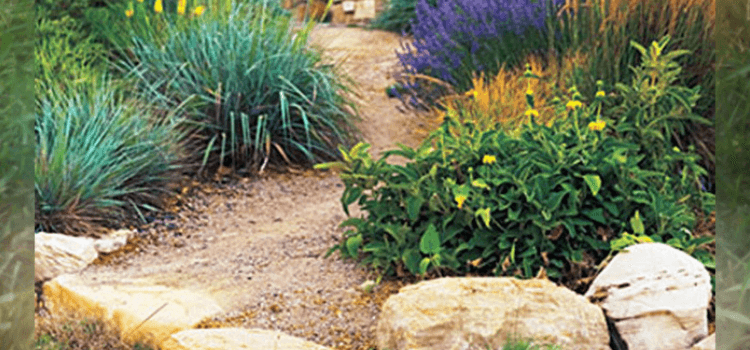 Make the most of your lawn
Forming a trail across bluegrass lawn, this garden path was designed by Kurt Culleberston, from Aspen. Its landscape, filled with grass and numerous shrubs helps to shape the natural ambience of the garden. When strolling along this path, you could be in any famous or well-renowned park or garden, rather than your own backyard makeover.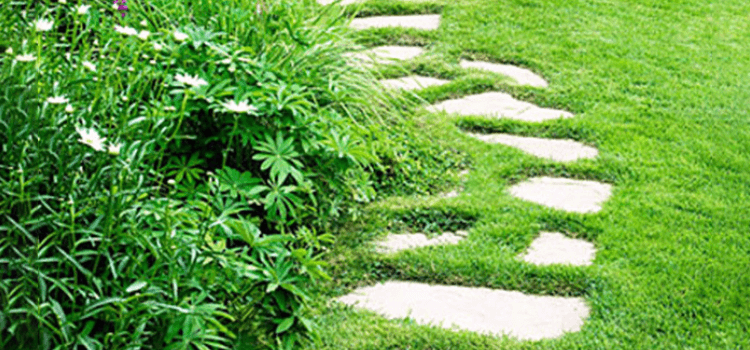 Water crossing to inspire and relax
If the idea of crossing over a small river sounds appealing to you, then this may be the garden path  you're looking for. Located in Berkeley, California, its bluestone pavers traverse a water feature. The designer, Stefan Thuilot, attached the bluestones to pillars built into the bottom of the water feature. Also, to make the water more reflective, he combined Mexican pebbles and dark-hued pillars.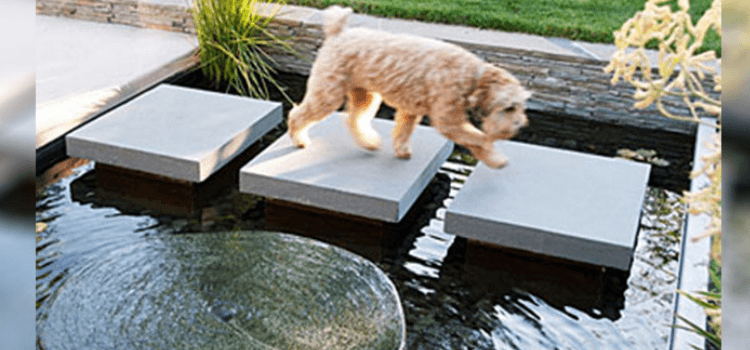 Driveway garden path: be innovative with what you have
Inventive and creative, landscape designer Mary Baum made the most of a driveway from Portland, Oregon. She transformed the unused back section of the driveway into a beautiful path, making room for a green garden bed. It flows seamlessly, with no contradiction and shows what can be done with a little ingenuity. Feel free to introduce a few old plant pots or holders that may be lying around to create a rustic look - a great tip for recycling beginners. Put on your thinking cap, you never know what innovative ideas you may come up with!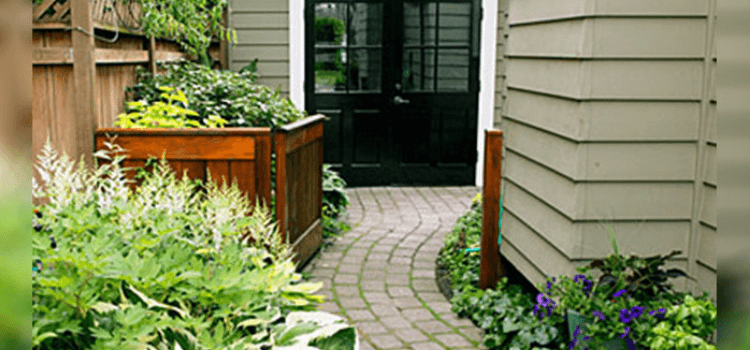 Paths of grass for a clean, natural look
You could turn parts of your lawn into an all-green garden path. That's what this homeowner did with his lawn. Now, he has a beautiful garden, with an attractive pathway that complements the garden. To make room for flower beds, the homeowner removed, bit by bit, sod around the turf's edge. Now they have a terrific place to relax and enjoy their leisure time.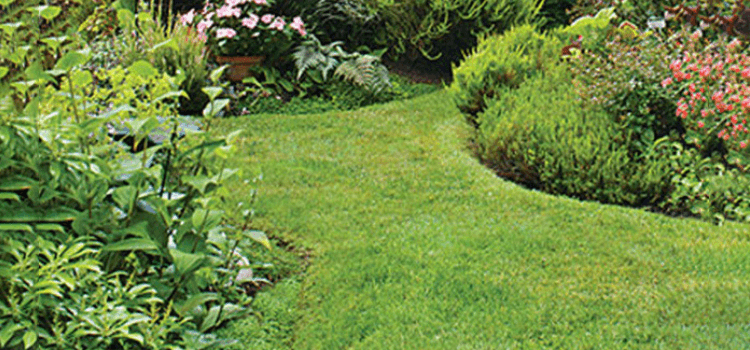 Go for grass circle paths for a unique look
Floating grass circles on an original garden path is a great way to make your great landscaping ideas stand out. That's that's what Mia Lehrer, of Los Angeles, thought when she designed it for a home in Malibu, California. The green circles seem to float on a river of pebbles, and wind through the bamboo plants.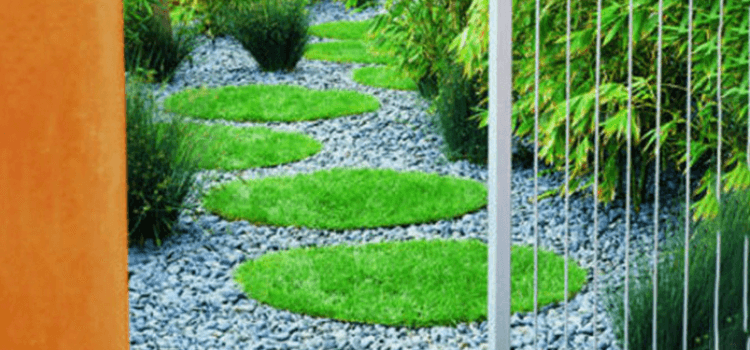 Mediterranean style with japanese elements in new zealand
A gravel entryway and a casual foil for plant textures and colours, seem to be the magical ingredients for this New Zealand garden path. Although it has Japanese silver grass billows, the image created around this garden path gives it a Mediterranean feel.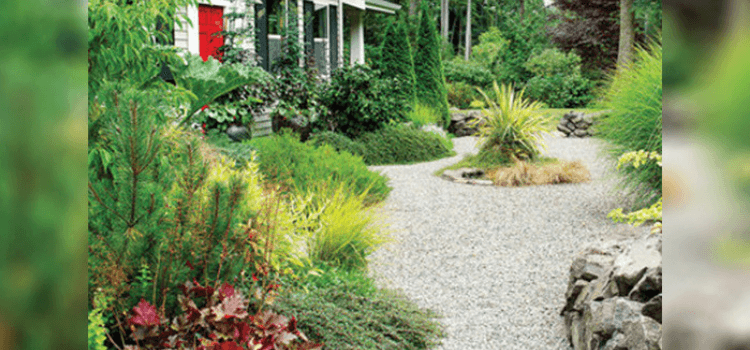 Craft stepping stones for your garden path
Patterned stepping stones are a great way to give your garden some extra "zing". Crafted by hand at home or purchased from specialised garden outlets, they will be a great conversation starter when guests arrive.
Relatively easy to make and the fact that the concrete hardens within a day or two, means it is isn't a major project.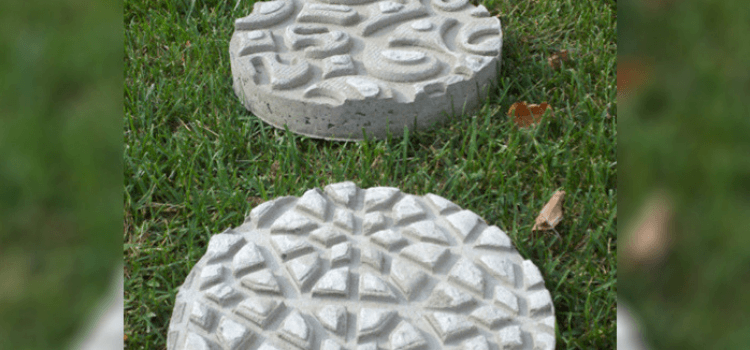 The above garden paths are just a few examples of what can be achieved with a bit of time, effort and ingenuity. Perhaps take "bits" from each and combine various aspects to give your garden pathway a unique but equally impressive visual image. Only be limited by your imagination and not your budget!
Need professional landscaping advice?
Further reading:
Easy backyard maintenance: quick ways to spruce up for summer now
10 most beautiful gardens in the world
The best gardening trends for 2019
The ultimate guide to designing a space you'll love