5 ways to make an old rental look modern
2nd Apr '23 • By Georgia Budden
When buying your own home isn't currently on the radar, renting will often be inevitable. You may not always snag the apartment or house of your dreams for your ideal price, meaning that an outdated home can be your only option within budget.
Tacky tiles, daggy flooring, and unflattering lights may form the foundation, but fortunately, there are many simple and affordable ways to refresh your old rental while keeping your real estate satisfied!
Keep reading as we explore five ways to make your old rental look more modern and better suit your design tastes.
Get free quotes in minutes.
Get quotes from our qualified and licensed tradies Australia-wide.
Overview
Replace Your Tapware
Change Outdated Light Fixtures
Swap Cabinetry Hardware
Take Advantage of Floor Coverings
Update Old Window Treatments
Peel and Stick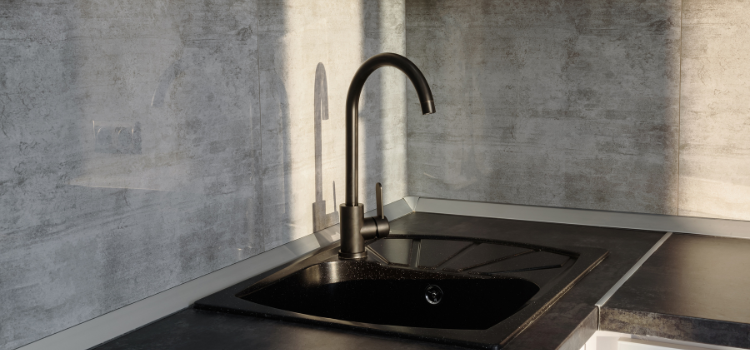 1. Replace Your Tapware
One of the most impactful ways to update your rental is to replace the tapware in your kitchen and bathroom, as outdated fixtures can make your living space look old and dingy. It's important to first check your rental agreement or contact your real estate for approval first. Try replacing your taps with a matte black or brushed nickel finish for a contemporary look.
If you're unsure of the complexity of the task, get in touch with local plumbers to help you.
2. Change Outdated Light Fixtures
Another way to upgrade your rental is to change outdated light fixtures. Old lighting can make your space look dull, uninviting, and unflattering. Consider new pendant lights to match your preferences, or at least replace the bulbs with warm LED globes. For more complicated electrical work, you'll need to hire an electrician to help.
Alternatively, you can add ambient lighting in the form of fairy lights, salt lamps, or table and floor lamps. You can even find hanging wall lights that are battery-powered, making them an extremely good option for rentals.

3. Swap Cabinetry Hardware
Updating your rental's cabinetry hardware is another simple way to give your space a modern feel. Swapping old knobs and handles for sleek, contemporary options can completely transform your cabinets and make them look brand new. Consider options like brushed brass or matte black for a modern touch. You can even take the approach for your dressing table or bedside tables for a cohesive aesthetic.
4. Take Advantage of Floor Coverings
If your rental has outdated flooring, consider adding new floor coverings to update your space. Options like area rugs, carpet tiles, or vinyl plank flooring can give your rental a modern, fresh look without the hassle of replacing the entire floor. Choose patterns and colours that complement your decor for a unified look. Then, you can pack them up and take them with you when you move again in future.

5. Update Old Window Treatments
Updating your rental's window treatments is an easy and affordable way to modernise your living areas. Old, stained curtains can be a real eyesore — consider options like sheer curtains, roller shades, or blinds for a modern look.
6. Peel and Stick
Peel and stick solutions are a super convenient option for many areas of the home. Peel and stick, or removable wallpaper, can be used to make your walls or even furniture appear more aesthetic, and are available in endless colours, patterns, and finishes. Peel and stick tiles are perfect for covering an ugly backplash with a more modern pattern, such as subway tiles. Both of these alternatives are easy to add and remove when you vacate your property
As you can see, updating an old rental to make it look modern can be extremely easy and affordable. Most of the upgrades can be a simple DIY job, while for others you can hire a professional depending on your experience. With a little creativity and a few small changes, your rental can look and feel like a brand new home.
Get free quotes in minutes.
Get quotes from our qualified and licensed tradies Australia-wide.
Further Reading
Posted under