Scenic wallpaper
Nothing sets the mood of your room like scenic wallpaper. This wallpaper style has been rising in popularity as many people wish to bring nature's beauty inside. As there are so many scenic backdrops to choose from, it can be hard to decide on a particular style. When in doubt, we recommend choosing what reflects your style and shows your personality. A scenic wallpaper mural is a great way to bring your favourite holiday spots or popular landscapes into your home  Whether its that tropical summer look or lush green fields or icy fiords, the choices are endless. Try and create a story or theme and blend the wallpaper with matching accessories.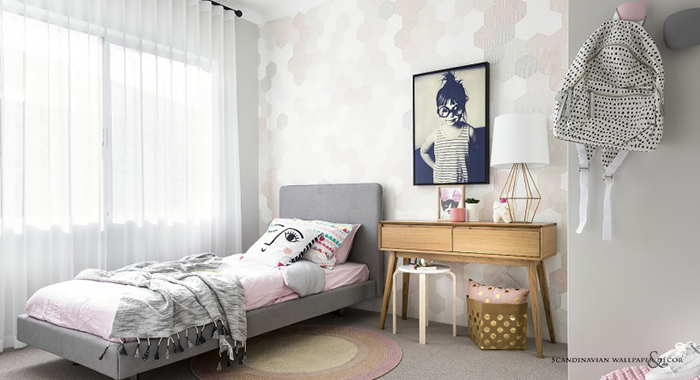 Old school cartoon wallpaper
Cartoon wallpaper designs of your child's favorite cartoon character will have them jumping for joy. You can perhaps go with Peter Rabbit – a favorite amongst many kids. This type of wallpaper is best for nursery designs and there are tons of variations you can choose from. Imagine your kid's delight to see their favorite character on their wall. Cartoon wallpaper will definitely capture your child's imagination and earn you plenty of brownie points with the little ones. If you really want to make an impression, consider the 3D cartoon versions, which will bring a kid's room or nursery to life. This will also help to promote your child's imagination and creativity, which can be a difficult task today, with technology, like ipads and mobile phones eating up a lot of the time.
Geometric Wallpaper
Another beautiful wallpaper trend is geometric patterns. These structured patterns are great for industrial styled homes and are an effective way to bring order to your space. In particular, a herringbone pattern is gaining a lot of traction amongst interior designers. Triangles and square shapes look fantastic, especially when they are monochrome on a coloured background. Try contrasting it with bold black and white backgrounds.                                                                                                                              
Brick Design Wallpaper
These brick designs are a great example of the trend towards an industrial look. They ooze that grungy factory and garage feel. The Resene website describes the look as "urban waste land .with its distressed brick walls and faux concrete" This is a great choice for a bar, entertainment or man cave areas. It can create just the right amount of ambient mood for those afternoons watching sport with plenty of snacks and drink.
Floral Patterns
Floral are great because of their diversity. These patterns can be used in both vintage and contemporary themes. Gone are the days when flowery wall paper reminded us of visiting our grandparents with that almost musty smell mixed with the waft of mothballs. Instead floral designs in 2019 create focal points in a room and add a degree of sophistication and class. The right design can also offer up feelings of serenity and peace. This is great for those areas of your home where you spend some downtime after a long day at work.
Wallpaper styling
With all wallpaper, the most important design tip to remember is to not go overboard. Always remember to keep one wallpaper design contained to each individual room. Some rooms might demand a more subtle and a more elegant design so be careful to ensure you choose the right one. However wallpaper can add depth and texture to a room that a coat of paint cannot achieve. Be mindful when using wallpaper in high humidity areas like the kitchen and bathroom. There is nothing worse that watching it lift or peel after a season or two.​
Don't Go Overboard
Before you purchase your new wallpaper there are a few boundaries you need to keep in mind.  Do not go overboard with the design or the colours of the wallpaper. Always remember, simplicity is best. For example, too many colours can interfere with your furniture settings and you might end up having to move accessories around or actually having to remove the items because they don't go together or are a match with the new wallpaper.
 Unless you are starting from scratch with a complete room renovation, then work with what you already have. Consider your current furnishings and look for wallpaper that highlights or improves that look. Finally a tip that should be obvious but apparently isn't; do not order wallpaper online. Instead purchase a sample which often looks different live compared to that glossy photo in the magazine! Texture and light aren't representative in any picture and will only be seen correctly in real life.
Need help installing your new wallpaper design? Get up to 3 free quotes from local painters today.
Further reading:
Lighting Tricks to Make Spaces Appear Bigger
6 Unique Statement Lighting Ideas
Australia's 11 most popular interior paint colours | 2019 guide