Bathroom renovations on a budget
30th Jun '20 • By Shreya Kulkarni
Looking to update your bathroom on a budget? Rather than a costly renovation, there are some simple ways to makeover your bathroom that won't break the bank.
Bathroom renovations don't necessarily have to include knocking down walls, replacing ceilings or increasing the size of a window but it's always a great idea to modernise and freshen up the look of your bathroom walls, fixtures and lights. Pick and choose individual projects from the many ideas below, or bundle some together to meet your budget. Bathroom renovations and installations are one of those things that, when done well and on a budget, can add more value to your home than they cost to install. Some bathroom renovation projects require tradies while some can be DIY. Cheap bathroom renovations don't necessarily mean the room will be of low quality or lack style, it's simply a case of being able to spend money where it matters, and saving money where you can. We have 10 bathroom renovation ideas to help you decide your budget.
1. Make a clear plan and decide a budget
The key to achieving a bathroom on a budget is all in the planning. Given bathroom renovations can take up a lot of time and require a variety of skills, you have to decide if you want to DIY or get quotes for bathroom renovations. However, having a plan worked out before you pick up the tools will ensure your design, budget and timeline are realistic.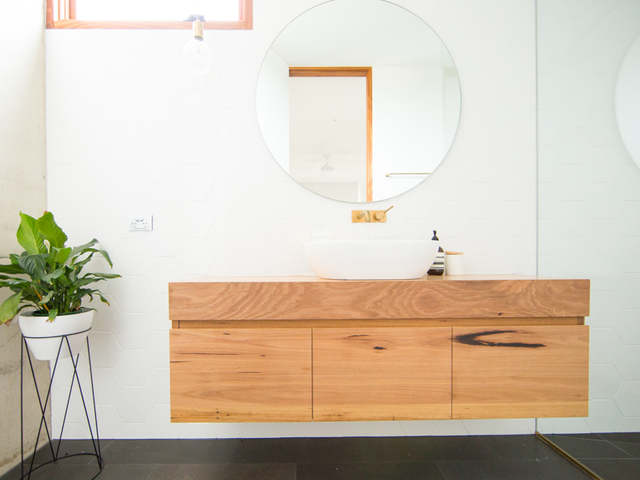 2. Less is more
We know, you can never have enough storage – especially in a bathroom but it's important to avoid any clutter in your bathroom. To avoid that, you can install simple floating shelves or cabinets. If you're going for a larger unit, measure your space to make sure that you have enough room for the vanity itself and its installation and reposition it with the help of a licensed plumber. This will make your bathroom look luxurious. This is not only a cheap alternative but will make a much-needed addition to your bathroom, be it a remodelled console, chest of drawers or a vintage shop counter.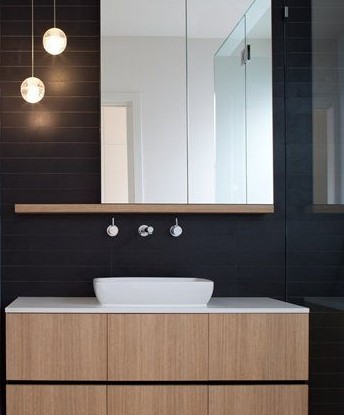 3. Upgrade your lighting
The right lighting can change the mood of the room. If it's too dark, it makes the room very gloomy so observe how much natural light is received during the day to determine your lighting needs. You can select your lighting depending on the mood of the room. Whether a chandelier or an industrial light, wire or grass-woven pendant, this is a simple way to add some structure to the room.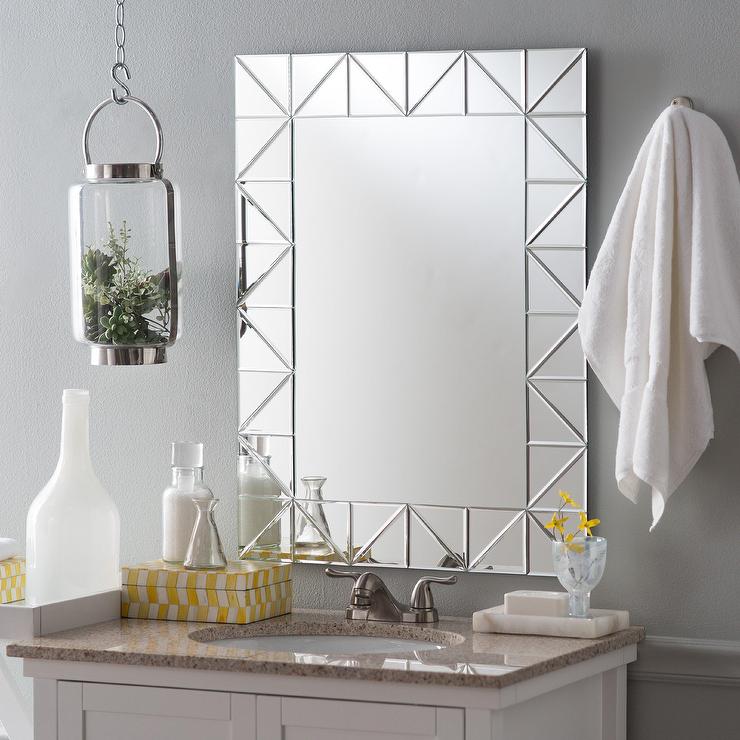 4. Invest in a good mirror
If your bathroom mirror has suffered any water damage or a little worn out, it's time to invest in a new one. Bigger mirrors give an illusion of space even in small bathrooms. There's an assortment of shapes and sizes that can dramatically alter the look of your bathroom. Mirrors create the illusion of space, even in the smallest of bathrooms. To really elevate your bathroom look, choose a (preferably large) mirror with an interesting or unique shape or finish such as gold, Moroccan, or tortoiseshell.
5. Tile it up!
Tiling will totally revamp the look and feel of your bathroom scheme. For smaller spaces, using larger tiles can make the room feel bigger and more open. To make the room feel cosy, smaller, mosaic tiles can do the trick. There are also many tile patterns that can add interest. Look for specific colours and prints which go with the aesthetic and mood of the room. The right colour selection can go a long way in making the room a better space. Want help? Get a tiler to help you with your renovations.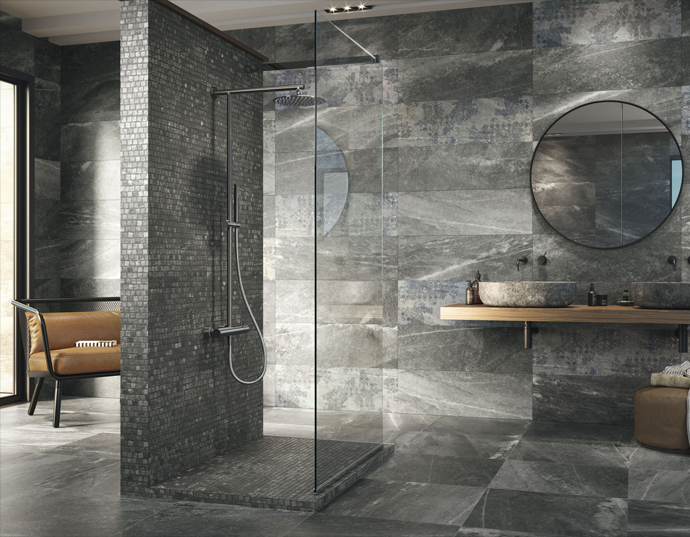 6. Let go of the old shower curtains
Old shower screens, recesses and shower curtains can give away the age of a bathroom. Replacing the shower screen is a simple way to revamp the bathroom. From frameless shower screens to pivot shower screens, there are many options depending on your bathroom layout and style. If you're upgrading from a sliding door, check you have enough clearance to open the shower door. We also have 6 extra tips for bathroom renovation and tips on how you can amplify your room.
7. Change your fittings
Changing your fittings might seem like a small change but it goes a long way in brightening up the space. When selecting new fittings, think about how they work with the rest of your bathroom features like the tiles, colour scheme etc. Silver tapware reflects the light nicely and can add a contemporary, high-end finish, while coloured tapware is another popular choice.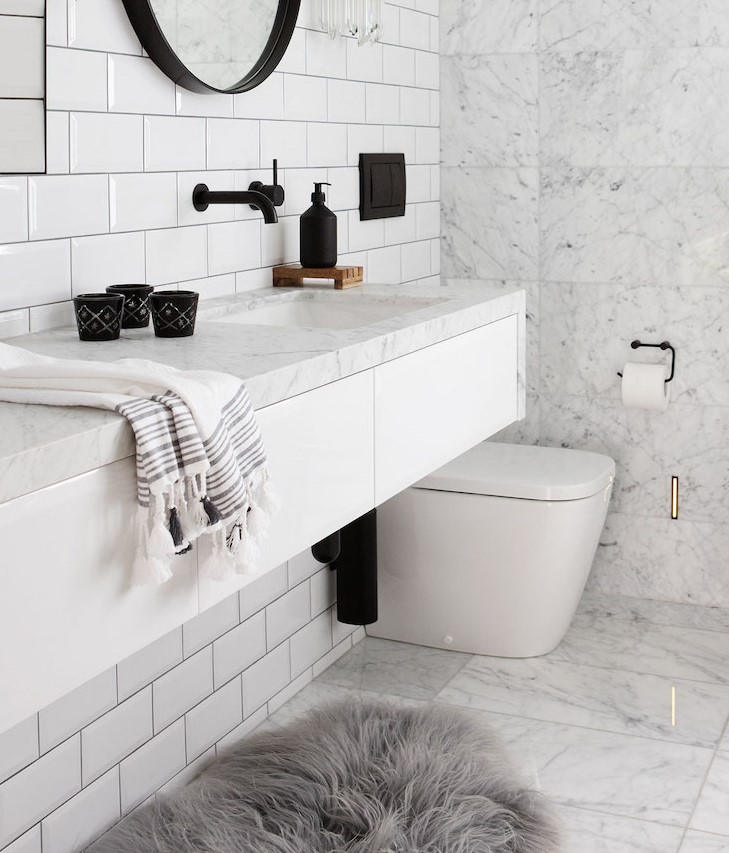 8. Customise it with a rug
Replacing the standard bathroom mat with a beautiful rug can take your bathroom to the next level. The fanciest bathrooms have taken this a step further by replacing terry cloth mats with Turkish and Persian rugs. Cotton rugs are often the mat of choice for their ability to absorb water and be washed. There are a number of designs to choose from, with weave and shaggy designs topping the list.
Get free quotes in minutes.
Get quotes from our qualified and licensed tradies Australia wide.
Posted under